The big guys keep getting bigger...
Online shopping giant Amazon (AMZN) announced yesterday that it settled on locations for the company's second and third headquarters. It chose New York City's Long Island City and Arlington, Virginia.
We're not surprised by Amazon's decision. As we wrote in a recent Health and Wealth Bulletin... today, you gotta be big.
The race to get big is a matter of survival for a lot of these companies. Many of these markets will be winner-take-all, with one big business (or perhaps two) taking the majority market share.
We're not just talking about technology. It's the same with media – like the Disney/Netflix competition. It's the same in finance – with banks collecting bigger piles of assets to lend.
And it looks like it's accurate for cities looking to attract these big companies, too. According to USA Today, the New York City metro area is the 24th-richest city in the U.S. And the D.C./Arlington area is the third-richest.
Amazon said it will invest about $5 billion across the two offices. Each office will have over 25,000 employees. Amazon also said that it will open a new operations center in Nashville that will create about 5,000 jobs.
The economic impact of this news is substantial. Look at Long Island City's condo market. Before the frenzy from the Amazon news hit, the Long Island City market was suffering. Sales were slowing, and inventory was piling up. You don't need an economics degree to know that's bad.
That changed with the Amazon news. And it wasn't the news that Amazon confirmed New York City as one of the locations for its new headquarters, it was the rumor that it might be considering it.
When it became public that Amazon was considering Long Island City, searches on the listing site StreetEasy.com for residential property spiked by nearly 300% from a week earlier.
And the first few days after the rumor came out, search volumes surged over 400%. Some brokers are already selling units to folks who haven't even physically seen the properties They're buying via text message.
Here's a look at the weekly visits to the sales office for Galerie. This is a new condo development in Long Island City...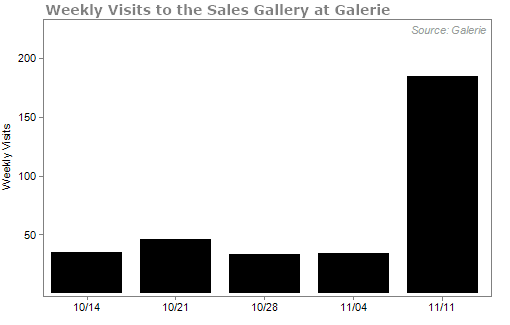 Buyers are hoping Long Island City is going to become the next Silicon Valley and push prices through the roof. It's the same with Arlington.
And remember, all of this occurred before Amazon confirmed which cities it chose. It was based on speculation. Wait until next week to see how the market explodes.
Amazon's decision ends a yearlong public contest that began with over 230 potential city candidates. Some cities went to great lengths to woo the second U.S. company to cross the $1 trillion market value threshold and its CEO Jeff Bezos.
For example, the city of Tucson, Arizona, tried to win over Amazon with a 21-foot cactus. The mayor of Kansas City, Missouri, wrote 1,000 Amazon product reviews. And perhaps the most dedicated city was Stonecrest, Georgia... It voted to change its name to "Amazon, Georgia," if it was selected.
Amazon narrowed down the initial list of 238 candidates using the following criteria. The city needed to have:
Public transportation,
A population of over one million,
Close to an international airport (so execs can easily fly to Amazon's first HQ in Seattle), and
Loads of tech talent.
Amazon eventually got the list down to 20 finalists, and executives made two-day visits to each city to hear its pitch for why it should host Amazon's new headquarters. Sadly, Stonecrest did not make the cut.
The whole thing has been quite the spectacle.
But in the end, it showcases the power and influence of Amazon. At times, we focus on companies just because they have strong top line growth or because they're gaining market share. But the emergence of tech giants like Amazon means a lot of new jobs and a lot of benefits for the economy.
Take Alphabet (GOOGL), as another example. Google already has a presence in New York City and recently reported that it will add office space for more than 12,000 new workers.
At the end of the day, Amazon's decision is a huge win for New York City and Arlington.
Here's what New York City mayor Bill de Blasio had to say on Twitter about the decision...

And Gov. Andrew M. Cuomo of New York said it best...
With Amazon committing to expand its headquarters in Long Island City, New York can proudly say that we have attracted one of the largest, most competitive economic development investments in U.S. history.
This kind of power from tech companies is exactly why we recommended both Google and Amazon in our Retirement Millionaire portfolio. Subscribers are up 29% and 71%, respectively. We anticipated the growth and are now enjoying our profits... And the economy is enjoying new jobs. If you aren't yet a subscriber to Retirement Millionaire, you're missing out on great opportunities before these companies hit the news cycle. Start your subscription right here.
What We're Reading...
Here's to our health, wealth, and a great retirement,
Dr. David Eifrig and the Health & Wealth Bulletin Research Team
November 14, 2018