The circle grows smaller.
Both my researcher and my franchise manager now know someone with the new coronavirus ("COVID-19"). And I suspect more folks in the office know someone, too... or will in the coming days.
Last week, I predicted that within four weeks, 50% of Americans would have the virus. And experts now worry that we could see bigger numbers much sooner...
Not only does that put many folks at risk, it also means putting a strain on our health care system that we can't address.
So let me say this again: Do everything you can to stay home.
Now, as I said last week... Don't panic. Most folks who get the coronavirus will be fine. But there are certain at-risk groups for whom the virus could have deadly consequences.
You might hear about something called "flattening the curve." The idea is that there are actions we can take (us, not the government) to help lessen the severity of this pandemic.
When a disease spreads as rapidly as COVID-19, you'll see a sharp spike start to form. That represents exponential growth.
But if we take preventive measures to reduce the spread, that sharp curve levels out. Take a look at how the Centers for Disease Control and Prevention ("CDC") and NPR describe it: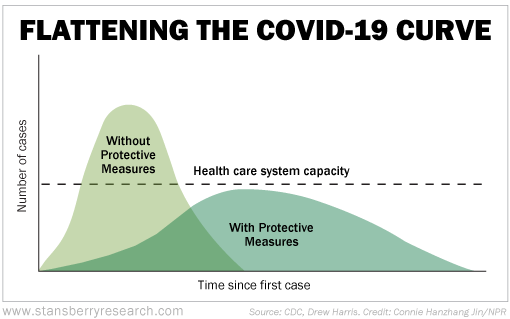 Some places have already taken extreme measures. We saw a quarantine zone put in place in New Rochelle, New York, with the National Guard delivering food.
Several states – including our home state of Maryland – have put bans on gatherings of 50 or more people. Bars, restaurants, houses of worship, gyms, and movie theaters all got orders to temporarily close.
It's simple: The fewer people you come into contact, the slower the disease progresses. That means fewer people infected... and fewer deaths.
The key here is one word: YOU. Social distancing won't work if you think you're exempt from the rules.
That said, we understand some folks have to keep working to keep society functioning or because they can't afford to stay home.
If you know anyone in the health care or emergency services fields, workers at nursing homes and pharmacies, and grocery store workers – thank them.
And if you can distance yourself, here's what you need to avoid:
Going to the movies, the theater, museums, and concerts
Attending sporting events
Shopping at malls or other stores (except for supermarkets and pharmacies)
Taking mass transit
Traveling (if possible)
Some places have already stopped in-person religious services, dine-in restaurant services, and special events in the National Parks. In California, they've even closed all the wineries.
If you have to venture out for anything, remember to keep a distance of about six feet between you and everyone else. Wash your hands well and avoid touching your face.
If you're worried about what to do when you're home, we've got a few tips and some suggested activities...
If you need food, consider a delivery service. As of this writing, many are still operating. Instacart allows you to order from grocery stores and some pharmacies (CVS is available in our area). Postmates is typically for restaurant delivery, but they have other stores available as well, including Walgreens. Postmates is unique in that it allows you to put in a "custom request," and they'll send someone to get it for you. It comes with a cost, but this may be a good option if you need something like Tylenol and can't leave the house.
Be sure to ask the service if they offer no-contact delivery. That means leaving the goods outside your door to avoid any contact.
Mail services including Amazon, USPS, and FedEx all report delays during this time. And Amazon is even running out of some items. So be patient and flexible with what you really need. If you can't order online, see if you can share a trip to the grocery store. For instance, you may volunteer to go for an elderly neighbor so that he or she won't have to risk exposure.
If you need medications, try and stock up. The U.S. Department of Health and Human Services suggests a supply of a month or more if possible. You want to try and avoid going to the doctor right now. Some pharmacies, like CVS, will waive the fee on home delivery for medications. (You can see the specifics for that here.)
Spend some time outside. Take a walk. Be sure to avoid large groups or crowded parks, but a walk in the sunshine is a good way to keep moving and boost your serotonin.
Do some gardening. It's a great workout, and with spring around the corner, it's perfect for planting. I'm looking forward to getting my hands in the dirt soon.
Keep up with socialization – over the phone or on the Internet. One of the risks of social distancing is an increase in depression. Seniors in particular feel this most, but you can combat this with a little effort. Start a phone chain to check in with friends and family members. Write e-mails and keep up correspondence with people. If you have any older neighbors without family, call them regularly to make sure they are OK.
Try out the Great Courses. I love this series, and right now, they have a free month offer. Learning is a great way to keep your brain sharp and boredom at bay. (Click here for the offer link.)
Finally, learn how to meditate. I encourage you to start a meditation practice now. Use this time indoors to unplug and let go of all the stress.
Social distancing isn't an overreaction. It's good prevention. I've canceled all my travel plans for the near future. Our entire office at Baltimore is working from home. Do what I'm doing and hunker down as much as possible. Even if you feel fine, you could have the virus without symptoms – so stop the spread.
If you missed our special report, Doc Eifrig's Coronavirus Care Kit, make sure you read it here.
And please keep sending your questions to [email protected]. We read every e-mail, and while we can't respond to individually, we'll be answering some of them later this week. So keep your eyes on your inbox.
What We're Reading...
Here's to our health, wealth, and a great retirement,
Dr. David Eifrig and the Health & Wealth Bulletin Research Team
March 17, 2020