Doc's note: Today, we're hearing from the gold-investing legend himself, John Doody. John gives his simple answer to finding the best way to profit from the gold boom.

From the Egyptian pharaohs buried with gold jewelry and coins... to the world's central banks stockpiling ingots to back their paper money... to today's most successful hedge-fund managers, who all say they own gold... gold has been a spending, saving, and investing medium throughout time.
It's a way of spending because it's accepted worldwide and can be converted into local currency for purchases. And it's used for saving and investing because it holds its purchasing power against inflation.
Many prominent investors have praised gold for these two benefits. These investors include Ray Dalio of $160 billion management firm Bridgewater Associates, who has said that the assets to own in the coming "paradigm shift ... include gold." Bond King Jeffrey Gundlach, who manages more than $130 billion, says, "I am certainly long gold."
When you consider what happened after President Nixon set gold's price free in 1971, it's easy to see why. At the time, one ounce of gold cost just $35. Today, almost 50 years later, the same gold ounce is worth more than $1,500.
Demand for gold is timeless, but is bullion really the best way to profit? Today, I'll give you the simple answer...
At Gold Stock Analyst, we think the best way to profit in gold is to own gold stocks. And we have the track record to prove it.
Our independently audited 18-year track record shows a total gain of 530% in our Top 10 gold stock recommendations... triple the return of the S&P 500 Index, and double that of gold.
That's why we love gold stocks. A selection of the best gold stocks can deliver market-beating returns over the long term... even through bull and bear markets. Take a look at our outperformance over the past 18 years and see for yourself...

Even better, when in a gold bull market like the one we're in today, the returns can be absolutely spectacular.
During the last gold bull market – a period of a little more than two years following the crash of 2008 – the Gold Stock Analyst Top 10 was up 1,070%. That's four times more than any other gold investment... and 22 times more than the S&P 500.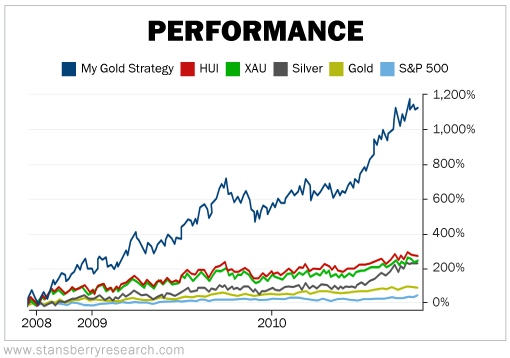 So what's the big secret? These returns are possible because the best gold stocks have leverage to gold prices. This happens in two ways...
Operating leverage
Suppose a miner's output is 100,000 gold ounces a year, and this amount costs $1,200 in labor, power, and materials to produce. If the gold price is $1,400 per ounce, the company's operating profit is $1,400 minus $1,200 times 100,000, or $20 million.
If gold rises to $1,600, the cost to produce doesn't change... But operating profits double to $400 per ounce, or $40 million total. And if 50 million shares are outstanding, profit per share doubles, from $0.40 to $0.80. The stock price will rise to reflect this.
Asset leverage
Miners typically have 10 or more times their annual production in reserves. So for our example, the miner would have a minimum of 1 million ounces still in the ground.
At $1,400 per ounce, that gold has a gross value of $1.4 billion. At $1,600 per ounce, its value is $1.6 billion, an increase of $200 million. Again, if a company has 50 million shares outstanding, each would now be worth $4 more based on the value change. This, too, will show up in an increased stock price.
You can see why gold stocks are the best way to profit from gold... especially during a boom in prices. In times like today, they can absolutely soar. And that's why you want to own the best gold stocks now.
Good investing,
John Doody
---
Editor's note: If you want to profit from this "perfect storm" in gold, you need to know where to put your money. That's why in Gold Stock Analyst, John has created a fully done-for-you portfolio of his 10 top gold stocks right now... which could soar as much as 1,000% during the current gold bull market. Click here to learn more.