Doc's note: While stocks have soared, one asset has been in a brutal, decadelong bear market.
In today's essay, my good friend and colleague Steve Sjuggerud shares the details of this bear market and how it presents a rare, once-in-a-decade opportunity to capture big gains.
To help readers get the most out of this developing situation, Steve just launched his latest high-end investing service... True Wealth Opportunities: Commodities. His research includes the full details on why now is the right time to buy, the absolute best way to invest directly in commodities, the 14 stocks he calls "Masters of the Universe," and much, much more.
***
One asset class peaked a decade ago – back in 2008...
It then fell roughly 80% to its bottom in 2016. Prices have recovered slightly since then. But we're still seeing something incredibly rare...
Commodities trade for the same prices they did in 1990. That's nearly three decades with no return.
This is actually crazy when you think about it. The global bull market has propelled just about everything higher in recent years...
Stocks have soared around the globe. The U.S., Europe, emerging markets... all are dramatically higher than they were a few years ago.
Bonds tell the same story. Interest rates are near all-time lows. And that means bond prices are high, too. (These move opposite each other... So lower interest rates mean higher bond prices.)
Commodities are the only asset class that's lagged. As the global universe of investments moved higher, commodities were left behind.
Importantly, this is setting up a huge opportunity for investors like us today...
The S&P GSCI Commodity Total Return Index fell more than 80% from its peak in 2008. And that decadelong bear market has had a shocking result.
This benchmark index for commodity prices now trades at 1990 prices. Take a look...
Nearly three decades, with nothing to show for it.
It's hard to believe, but it's true. Despite rallying since early 2016, commodities still trade at 1990 prices.
This sets up a simple question...
After 28 years, what's a better bet today... stocks or commodities? Which has a better chance of leading to outsized returns?
[optin_form id="73"]
You probably know the answer...
Take a look at the chart below. It shows the returns of commodities versus the S&P 500 since 1990. Which one looks like the better starting point to you?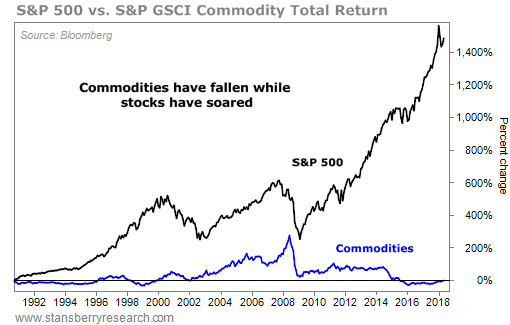 Stocks jumped 10% per year for nearly three decades. That gives us a total return of more than 1,400%. The bull market in stocks since 2009 has been one of the biggest drivers.
I strongly believe big gains are still ahead in stocks as the last leg of the "Melt Up" continues. But after nine years, doesn't it seem smart to get some money outside of the stock market?
I think it does. It's obvious.
That's why, last week, I hosted a live event to discuss this opportunity. But if you missed it, don't worry...
You can still learn about what I see going on in the commodity markets... including why we have a rare, once-in-a-decade chance to invest right now.
You see, despite what most folks believe, the next commodity bull market is likely already underway.
Commodities have been in a solid uptrend since early 2016. But more importantly, the biggest gains are certainly still ahead of us.
For now, it's fantastic to have this rare opportunity in front of us. This is big and exciting.
I've found plenty of ways to profit from it...
Good investing,
Steve