Doc's note: "The clock is ticking" on stocks...
Recently, my colleague Greg Diamond sent this warning to his readers. He explained why, although he has been bullish on stocks, he's seeing signs that this bull market is running out of energy...
***
"I'm sorry about the stock market, Greg"...
I get this a lot from friends and family when stocks go down, and I always chuckle.
Why are they sorry if the market goes down? Are they sure I'm bullish? What if I'm short? Why does the stock market going down have to be a bad thing?
It's a sign of the times, in my view.
Just about everyone is paying attention to the stock market these days.
Right now, it seems stocks can "only go up"... But it won't last, my friends.
Most people believe the big indexes are only going up from here. But they aren't looking at what's happening under the hood of the stock market... which is what I'm going to explain today.
What I'm going to highlight today is similar to what happened back in 2000 right before the crash. We're seeing many stocks that were participating in the bull market stall out, top, and then suffer serious declines. Many stocks have broken their uptrends from the March 2020 low.
What does it mean?
It means the bull market is running out of energy... The clock is ticking.
Let me explain...
I've stressed lately to my Ten Stock Trader subscribers that, in the short term, I'm still bullish... But the long-term technical picture is concerning for bulls. That's still the case right now.
I have several stocks to highlight this week to make my case. The common theme among them all is a huge move up after the March 2020 low. But they've all broken their uptrends, topped out, and are diverging from the major indexes.
I'll start with electronic-agreement company DocuSign (DOCU). This was a high-growth company that participated in the bull market along with the major indexes. But it's not doing that anymore...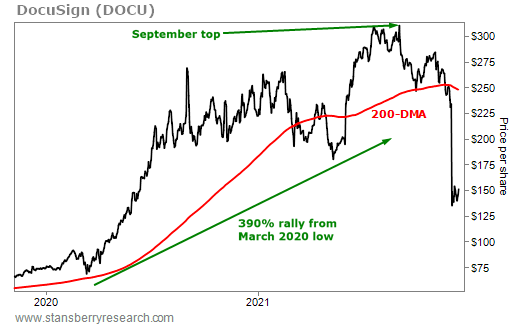 The stock rallied 390% from its March 2020 low, but then topped out in September. It couldn't keep up with the major indexes and has since crashed. The 200-day moving average (200-DMA) in red isn't even in the picture anymore.
Remember last week, I pointed out that many of the major indexes are holding above this important average – but not DOCU. This is one of many growth stocks that's falling behind.
Another one is CrowdStrike (CRWD), which provides cybersecurity applications for companies around the world...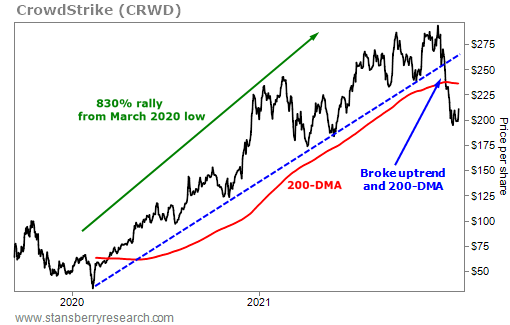 CRWD had an eye-popping 830% rally from its March 2020 low... Talk about growth. But the stock topped out in early November and dropped 37% into the recent lows. The 200-DMA broke, as well as the uptrend in blue. This is not bullish price action.
I've been looking for lows in the next two stocks because they're so connected with growth, but the price action is just not bullish now. First is mobile-payments company Block (SQ) – which changed its name from Square last month.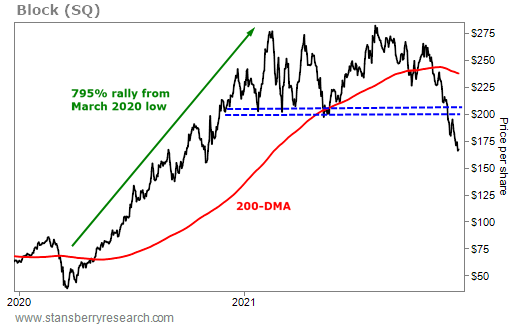 Similar to other growth stocks, SQ skyrocketed almost 800% off its March 2020 low, but topped out back in August. It's now well below the 200-DMA and couldn't hold previous support (the blue lines). This doesn't mean SQ can't rally from here, but there's now significant overhead resistance in this chart and its bearish price action.
Next up is cloud communications platform company Twilio (TWLO)...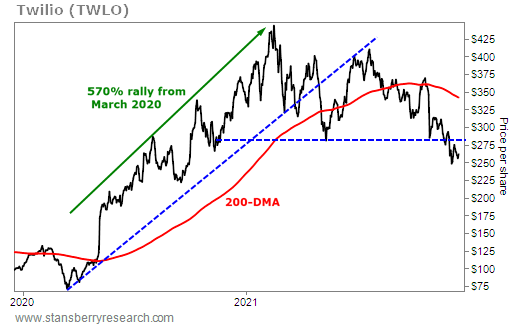 You can see the theme I'm highlighting with these stocks. It's the same story again in TWLO... It had a 570% rally from its March 2020 low, but it then topped out way back in February 2021 and hasn't kept up with the overall market since. TWLO is below its 200-DMA, and the uptrend in blue is broken. The stock is struggling to rally above the previous support levels (horizontal blue line).
The next three charts really paint the picture of growth stocks that have fallen by the wayside, and also show the bigger dominoes that are starting to fall in the bull market. But these next examples aren't in the U.S...
I'm talking about China.
China is the second-largest economy in the world. But there's a simple reason why I really stay away from this market – the long-term price action. The Shanghai Stock Exchange Composite Index hasn't hit a new high since 2007. On a long-term time frame, it can't keep up with its peers in the U.S.
Now, that doesn't mean you couldn't make money in China... Some stocks in China have made nice runs since the March 2020 low, but this isn't a long-term sector I want to be heavily invested in.
Considering the lower highs this index has made since 2007, when I see growth stocks start to peak and drop while China is still in a long-term downtrend, I take notice.
And when I go back to our theme in today's essay, these next two Chinese stocks fit perfectly. The first is e-commerce giant Alibaba (BABA)...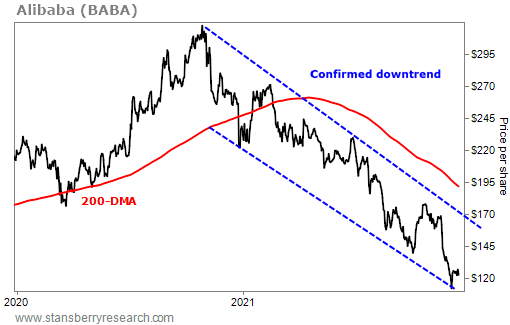 This stock is in a well-established downtrend and is well below its 200-DMA. It's a simple analysis of a big downtrend.
The same thing is happening with Chinese Internet company Baidu (BIDU)...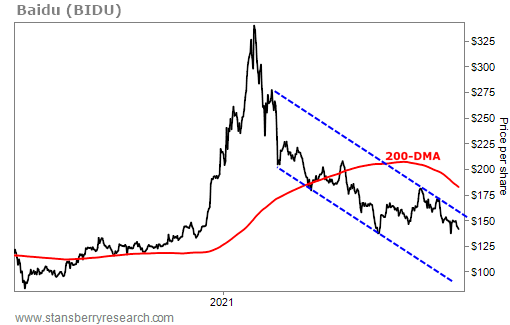 Just look at how it participated on the way up... topped earlier this year... made an equally impressive move on the way down with a big downtrend... and remained below its 200-DMA.
You may be thinking, "Well, the authorities in China are cracking down on these companies." So what? Remember, the "why" doesn't matter... It doesn't matter why these behemoths are down. It only matters that they are down relative to the other big growth and tech stocks around the world.
Capital is fleeing. If they participated on the way up, that confirms the strength in global stocks – great. But now that they aren't, it puts the bull market on thin ice.
Think about it like this... If the biggest stocks within the second-largest economy in the world aren't in a bull market, that's not a sign of confidence from bulls – it's the opposite. And it provides more evidence that the clock is ticking in this bull market on a global scale.
These are the stocks that are falling.
What stocks are keeping the major indexes up?
For the most part, the leaders are Apple (AAPL), Microsoft (MSFT), and Alphabet (GOOGL). There are others, but these are the big three.
The evidence of a weakening bull market is right in front of us to see – just look at the price action. If you lined up all the big growth stocks like dominoes, you'd see that some are falling. Others like AAPL, MSFT, and GOOGL are at the end of the line. They're holding things up for now, but eventually, they'll succumb to this bull market breakdown in 2022.
The clock is ticking...
Best,
Greg Diamond, CMT
Editor's note: Before the crash hits, Greg believes that 2022 will be an extraordinary opportunity to make money. But you'll need to try something new... a strategy we rarely publicize, and which you likely have no experience with. Click here for full details.