For many folks, the winter holiday season is one of the most stressful times of the year...
Suddenly, you're not getting enough sleep, drinking and eating too much, and traveling in confined spaces like airplanes.
This holiday season, take some time for yourself. Here's what I like to do...
Inside Philadelphia's old Wanamaker Building (now Macy's City Center) sits the world's largest operating pipe organ...
I like to head to Philly this time of year to hear the holiday tunes played for hours for shoppers and visitors from all over the world. I highly recommend the experience to anyone who enjoys history and music.
And to help you not stress about any last-minute holiday gift ideas, I've put together a short guide with some of my favorite gifts to give (and receive)...
1. Help cut the cord. Americans hate their cable companies. No wonder... the average American family's cable bill is $123 per month.
But this holiday season, there's one great gift that might help someone thinking about "cutting the cord" take that final step.
The simplest and easiest hardware option for streaming is called a Roku box. This small device plugs into your TV and connects to the Internet. It allows you to control your subscriptions to most of the major streaming services and includes free channels like YouTube and Pandora.
Apple, Google, and Amazon make similar boxes (and smaller, matchbox-sized plug-in sticks), but I like the ease of use of the Roku... So much so that I bought about 10 of them two years ago for my friends and family.
And recently, Roku released an even cheaper and smaller version called the Roku Stick. One member of our team bought one over Black Friday for herself... and another bought one for his in-laws that are thinking about canceling their satellite service. The best price we can find right now is on Amazon for about $48, and it's also available directly from Roku.
2. Cast iron pans. The best cast iron pan is the one from your parents or grandmother that has decades of history behind it.
But you can get great new cast iron pans today for far less than you think... a pre-seasoned 10.25-inch pan is $16 on Amazon. It's made in the USA from the well-known Lodge foundry, and it comes with a lifetime warranty. I just bought the larger brother of this Lodge, the 13.25-inch skillet. It's spectacular if you're cooking for larger groups.
Le Creuset is another popular and long-lasting brand. But it's more expensive – a 10.25-inch enameled cast iron pan is around $160.
3. The world's best razor. The OneBlade razor is an heirloom-quality razor that will last a lifetime.
OneBlade is only about a year or so old... And already it's winning major design awards. It was even included in the permanent collection of the Henry Ford Museum – right next to the Gramovox floating record player.
Porter reports that the initial production run this holiday season has already sold out. And there's only a few thousand more left in stock.
Because this razor is now available on Amazon... and featured in a far more popular gift guide than this one (from actress Gwyneth Paltrow)... it's unlikely that the limited supply will last until Christmas. (Full disclosure: OneBlade was founded by my friend and publisher Porter Stansberry, and I have a small stake in the business.)
The OneBlade team has put together a special holiday gift bundle only for Stansberry Research readers at a better price (and with more included) than it's available for on Amazon. You can learn more about this exclusive shaving kit by clicking right here.
4. Everyone appreciates a massage. I try to get a full-body massage at least once a month. And it's a great gift for a loved one...
I like to look on coupon sites like Groupon and LivingSocial for big discounts at a variety of local centers and spas. And you can also find discount codes on RetailMeNot for gift cards to Spafinder.com. Spafinder is a convenient way to search your city for nearby massage centers, yoga classes, and more. It also lets you search by discount offers with their "Wellness Search."
There are also tools you can use to give yourself a massage. I use a Body Back Buddy to help relieve aches in my back. (You can find them on Amazon for less than $30.)
5. Wine to enjoy with great company. My friends at Mutt Lynch Winery in Sonoma have a special holiday package that they've put together this Christmas season. It's called The Holiday Six-Pack and I can personally recommend all of their wines.
It includes two bottles of the 2014 Unleashed Chardonnay, a bottle of the 2014 "mbf" Zinfandel from their Perotti Vineyard, two bottles of 2013 "Portrait of a Mutt" Zinfandel, and a bottle of the 2013 "mbf" Primitivo from their Speedy Creek Vineyard.
Brenda Lynch says she'll deliver these six bottles to your door (or the door of a special someone) for $110... or less than $20 a bottle. Click here for the details.
6. Something for yourself and your financial security. This is the best time of year to buy closed-end funds (CEFs).
Every day, you can find hundreds of funds trading at a discount to NAV. At any time, the average fund sells at a discount to its NAV. But history shows CEFs have sold for the steepest discounts in December...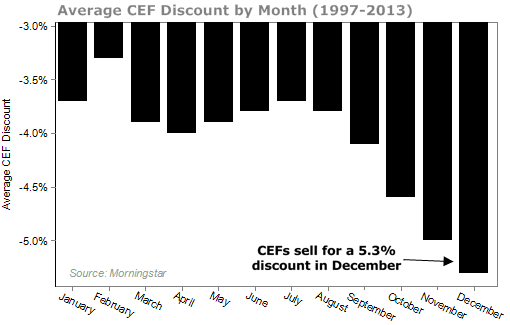 In December, professional money managers need to arrange their portfolios to determine their year-end numbers. It's thought that these managers sell CEFs to book gains and take losses (for tax purposes) and that drives CEF prices down in relation to their true values.
Regardless of the underlying cause, December is a good time to scoop up funds that you've been considering. Over time, the discount changes, but odds are that it will be the biggest in December.
Right now, the average fund is trading for a 6.7% discount to NAV.
To screen for CEFs to buy, I like to use CEFConnect.com. And of course you can find our "buy rated" CEFs in both the Retirement Millionaire model portfolio and the Income Intelligence model portfolio.

What We're Reading...
We're not the only ones who appreciate the OneBlade. The experts at Sharpologist called it the world's best razor and the "ultimate luxury razor experience" in their Father's Day gift guide earlier this year.