Doc's note: Lots of folks are wondering when the next recession will hit...
Today, Brett Eversole, editor of True Wealth Systems, details a major warning sign for a recession that just flashed...
*****
It'll be the most anticipated recession in history... whenever it shows up.
The consensus view for more than a year has been that a recession is coming. Everyone is asking "when," not "if."
Many folks expected it would officially happen last year. After all, we saw soaring inflation and two back-to-back quarters of declining gross domestic product ("GDP"). But a recession never came.
That's mostly because of a strong labor market. Unemployment is still below 4%. It has barely budged off its lows. And with more jobs available, folks can keep buying and driving the economy.
The fears haven't dissipated, though. In fact, small-business optimism just hit a new low. But even that doesn't guarantee a recession is on the way. And if one comes, it doesn't mean we'll see a repeat of 2008.
Let me explain...
Large corporations seem to eat up more and more of our spending in the U.S... But small businesses remain a crucial part of our economy.
Small businesses are typically "mom and pop" operations. They're focused on serving their communities as much as they are on growing the bottom line. And they also tend to fare worse in tough times than the big corporations.
Just think of how many small businesses closed their doors during the pandemic... and haven't opened them back up.
These businesses are vulnerable during economic downturns. So it makes sense that their owners are keenly aware of what's going on in the economy. Their livelihoods depend on it.
And knowing how these owners feel about their prospects can be useful for investors. That's because small businesses play a critical role in the health of our economy.
They contribute to our nation's GDP and employment in a big way. So any major drop in optimism could signal trouble ahead for the economy... and the stock market.
We can best gauge sentiment with the Small Business Optimism Index. It's in a monthly report from the National Federation of Independent Business ("NFIB"). The most recent reading is made up of 1,365 responses from surveyed small-business owners.
The NFIB asks the owners a series of questions on their views on the economy. It then builds the answers into the index. This index is high when times are good. And it's low when folks are worried.
Not surprisingly, the index is low right now. What is surprising is that today's level is one of the lowest in a decade. Take a look...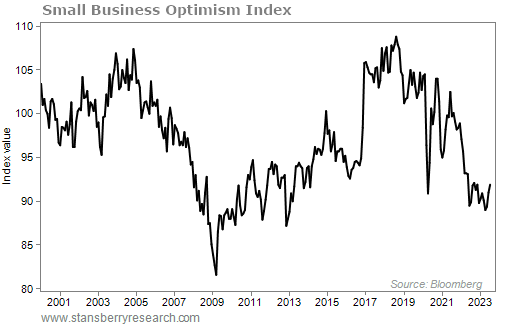 Back in May, we saw a worse reading than any other we saw last year. It was lower than the pandemic bottom – a painful time for small businesses. And while it has gone up slightly since, business owners haven't been this scared since 2013.
Still, that's no guarantee we'll get a recession from here...
Along with 2013's low, we saw similarly low levels in 2011. And the economy ended up performing just fine in both cases.
Of course, we saw the index drop to much lower lows during the global financial crisis. So small-business sentiment is something we'll want to watch closely. If optimism keeps falling, it could be a sign of bad times ahead.
Still, today's reading isn't reason to worry yet. After all, the market is a forward-looking machine. It dropped into a bear market last year without a recession... And it happened even as unemployment fell. So the market has already priced in a lot of the future pain.
Folks are still scared that the worst is yet to come. But as contrarians, we want to buy when others are scared. Combine that with the fact that stocks are moving higher, and it means it's smart to be bullish right now.
Good investing,
Brett Eversole
Editor's note: Tomorrow at 8 p.m. Eastern time, Brett and Matt McCall are sharing why they're convinced we're about to see what could be the single-biggest moneymaking setup in 30 years. If you want to know where to put your cash to get ready, click here to register for free.