I don't usually talk about our most exclusive group at Stansberry Research.
To be honest, membership is simply not appropriate for most subscribers. And typically, you must be invited to join.
But for a single day... Today... We're opening membership for the first time in nearly two years. And I have to share the details with you...
Right now, more than 45,000 people have signed up to do business with our firm on a lifetime basis.
Only a small percentage of those have been invited into our highest level of membership – The Stansberry Alliance.
When you become an Alliance Partner, you receive essentially everything Stansberry Research publishes – and everything we'll publish in the future – for life.
But for the last two years, the only way you could join The Alliance was if you accepted an invitation sent by Porter Stansberry via FedEx to your house.
I know Porter spent a huge sum of money and time sending those invitations. But he was only able to invite a small fraction – less than 2% of his 500,000 readers.
And beginning in 2017, there's a big change coming to The Alliance.
Because of all the new research that the company is publishing this year – like Porter's Gold & Silver Investor and Big Trade publications, as well as Steve Sjuggerud's True Wealth China Opportunities, the price of Alliance membership is going up... significantly... for new members.
Starting next year, the new Alliance membership fee will be $25,000... or higher.
But it's not right for us to raise the price without giving you any opportunity to access this elite group of readers.
So to give every current Stansberry Research reader subscriber a chance... even without an invite... Porter is opening the membership roll to all subscribers for one day only.
That's today.
Porter has put together a full website about the benefits of joining The Alliance.
And I think this quote from Alliance member Tom S. shows best how membership should work...
I started with a simple purchase of Stansberry's Investment Advisory on December 22, 2010. Over the past [several] years, I have expanded my investment in Stansberry Research to the point where I am now an Alliance member.

The depth of your work is outstanding and the results I am achieving are far better than anything I had done over the previous 20+ years, including several stints with "Professional Financial Advisors" and "Brokers." My investment in Stansberry Research services has paid me back many, many times over...
That's Porter's entire goal with Stansberry Research... We hope you'll make enough money using our recommendations to cover the entire Alliance Partnership fee.
Accepting an Alliance membership grants you access to every investment research product we publish, with the exception of Stansberry Venture (which launched prior to the start of The Alliance and has always been a standalone service).
It includes everything you will need to take full control of your financial future.
Alliance Partners also receive a special portfolio each quarter. It's called the Stansberry 16. Our top analysts handpick the 16 best investments across all of our products... creating the only portfolio you'll need to manage your wealth.
We also host an annual, Alliance-only conference each year where our top analysts – and several invited guests – present their top ideas. In the past, Alliance Partners have heard from Dr. Ron Paul, Tesla co-founder JB Straubel, energy billionaire T. Boone Pickens and Steve Eisman (of The Big Short fame).
And we host special meetings around the world for our Alliance Partners. We've met in London, Nicaragua, Dallas, and San Francisco... to name a few. Maybe we'll see you at a future event.
But you can't wait long.
This one-day event is the only way to join The Alliance without a personal invitation in nearly two years.
Again, this opportunity will only last until midnight tonight.
After that, the price is going up... and it's very likely that the price will keep going up. Take a look at how the level we've offered Alliance membership at has increased since 2003...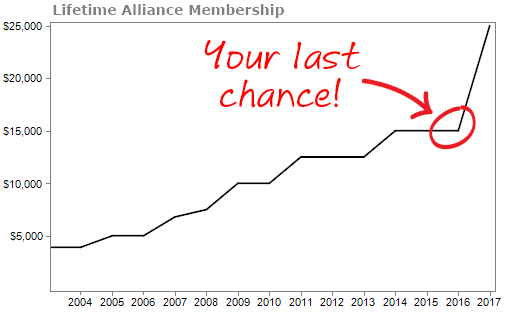 Here's a current Alliance member's reaction to the increased price:
Did I just read that the Alliance membership is now $25,000??? If memory (and records) serves, I paid $3,900 back in 2004 and have enjoyed EVERY publication, new and old, except Venture, for a measly $99 each year. If memory also serves, I am allowed to pass on my Alliance membership when I die.

What I'm trying to say is that boy am I glad I decided to join when I did! The information and 'teaching' that allows us to 'learn' is worth far more than any college course, undergraduate or graduate, that I've paid for and my 'investment' in the Alliance has grown at 18.4% per year (assuming 11 years). Frankly, the value far exceeds that estimated 'return' on the value of my subscription.

Porter & the rest of the group – you've lived up to everything you said you would and I thank you for being a man/business of your word. It's so rare in today's world. – Todd K.
If Alliance membership sounds like it might be right for you, I recommend seizing this opportunity while you have the chance. To learn more about this one-day opportunity, click here now.
What We're Reading...