Doc's note: I'm no gold bug. But I've long maintained that part of your portfolio belongs in gold as protection for when things in the economy get really bad – as a "chaos hedge."
In today's issue, longtime gold advocate Dr. Steve Sjuggerud explains there's one – surprising – investment that could get him to give up gold...

If I had to, I would give up gold forever and invest in this instead...
That claim will probably surprise anyone who has read my work over the years.
Sure, I've made a name for myself as "Mr. Melt Up." And I started pounding the table on stocks as far back as the very early days of this historic bull market.
I told DailyWealth readers that the market had bottomed in March 2009... And I maintained my bullish outlook year after year, in spite of whatever market boogeyman was popular at the time.
Now, here we are in 2021... The market has been hitting all-time highs once again after the COVID-19 panic in early 2020. And I'm proud to see that my advice has benefited readers time and again for more than a decade.
But if you think I'm just a perma-bull and stock market cheerleader... you're wrong.
Instead, I got my start by finding ways for my readers to profit... in gold. Today, I'll share some of that history. And more important, I'll share the one asset that would make me give up gold forever.
I began writing my True Wealth advisory way back in 2001 – two decades ago. Back then, it wasn't a great time to recommend stocks...
The tech-heavy Nasdaq Composite Index was in the midst of an 80%-plus crash. And the benchmark S&P 500 Index wouldn't bottom for about another year and a half.
So instead of forcing stocks, I looked for other investments. And I quickly found a wellspring of opportunities in the gold market.
The precious metal was near the end of a decadelong bear market.
To say no one cared about gold in the early 2000s would be an understatement.
I remember visiting my first gold coin show... The exhibit hall was half full. And I don't think anyone there was below the age of 60.
This wasn't a hot investment show. It was a tired group of collectors. But for me, a young guy looking for hated opportunities... it was perfect.
I started making gold recommendations to my True Wealth readers...
We bought several gold coins that soared triple-digit percentages. I recommended gold stocks as well – including Seabridge Gold (SA), which went on to be a 995% winner.
Gold and other alternative investments are what kickstarted my career. Those big winners helped put me on the map. But the thing is, if I had to...
I would give up gold forever.
That's because another investment is even better. It's one I've personally poured money into over the past decade... And while it has done well over that period, the biggest gains are likely just getting started.
So... what investment are we talking about here?
It's not bitcoin or any other would-be gold substitute. Like those assets, this one will act as a hedge against long-term inflation. But it has a lot more going for it than just that...
It's why I put almost all of my investment dollars into this asset over the past decade. And honestly, if you've read my work over that time, I'm sure you already know what I'm talking about...
Real estate.
I started buying properties in 2010, just as we were coming out of the housing bust. I've done it ever since. And real estate prices have soared over that period.
But even given that rise in prices, we haven't missed the boat... Again, if I had to pick one investment right now, I'd take real estate investing over gold. And it isn't even close.
Homes just about everywhere are selling immediately, and above their listed prices. Many buyers, if they want a chance at homeownership, are being forced to waive their "safety nets" – like being able to back out based on an appraisal, or even setting foot in the home before putting an offer in.
It has created an even more hectic market than what I saw leading up to the housing crisis.
I doubt any of this is news to you.
But given all of those facts, you might wonder why I'm still so excited about housing... After all, we've experienced a decadelong boom already.
The answer is simple. While this might feel like a mania, it's actually perfectly rational. And it will likely last much longer than most believe...
It's economics 101...
I've been beating this drum a lot lately. But it's important to understand.
What's happening today isn't wild speculation like we saw in 2004. It's not folks quitting their jobs to "get rich quick" by flipping houses. It's all about supply and demand.
Right now, we have a ton of buyers entering the market and not nearly enough houses for them to buy. It's really that simple.
There are plenty of explanations for what's going on...
COVID-19 gets some credit. It has forced folks around the U.S. to reprioritize their lives... And that means making big changes to where they live and what they do for work.
Also, the millennial generation is becoming crucial to the housing market... Millennials are now the largest generation of homebuyers, according to the National Association of Realtors. And younger millennials (ages 22 to 30) are almost entirely first-time buyers.
The chart below should be familiar to readers. New home sales hit their highest level in 15 years in January. But as we'll get to shortly, the imbalance here is even greater than you might realize. Take a look...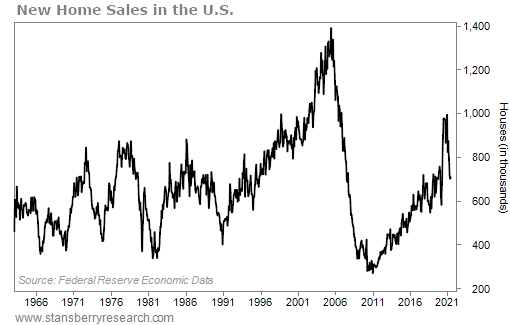 We've seen a decline in demand from the peak over the past few months – but you can see that new home sales are still up double digits compared to 2019 (before the pandemic). And they're up nearly 30% over the past four years.
Meanwhile, the number of homes available for sale has fallen dramatically over the same period...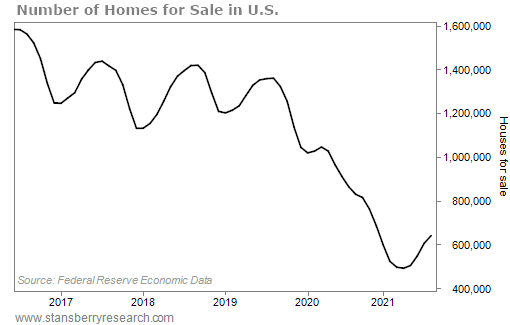 This chart shows the number of active listings in the U.S. at any given time over the past five years. And as you can see, we're well below half the level from 2016.
Again, this paints a simple picture... Today's apparent housing mania isn't a mania at all. It's simply a massive imbalance between supply and demand.
That means the current housing boom is more sustainable than almost anyone realizes.
Good investing,
Steve
P.S. I've long been known as a perma-bull, but I believe that we are heading for an epic crash of massive proportions. It's just a question of when. Tomorrow night, Dr. David Eifrig, Dan, and I will discuss what we believe will happen in the final months of 2021 and how that will set the stage for the stock market in 2022. If you have money in the markets, this is a must-see event. Click here to reserve your spot now.