What happens when three of Stansberry's top analysts all agree on something?
It usually turns out pretty well if you take our advice. (And you might see a pig or two flying, because all three of us being on the same page is solar-eclipse rare.)
But over the past few months, Porter Stansberry, Steve Sjuggerud, and myself all turned bullish on gold.
In September, Steve recommended his True Wealth subscribers buy a gold royalty company and a stock he called the "Golden Lottery Ticket." (In true Sjuggerud fashion, he called it perfectly – gold was cheap, hated, and at the start of an uptrend.)
Just a few weeks later, I recommended my Retirement Millionaire subscribers buy a fund that tracks the price of gold closely. Given the market conditions and my concerns about the market, I thought it was the perfect time for my readers to increase their gold holdings.
Then in early January, Porter and his team recommended their Stansberry's Investment Advisory subscribers buy a gold mining company.
So, what's happened to the price of gold since we all turned bullish?
It's gone on an upward tear...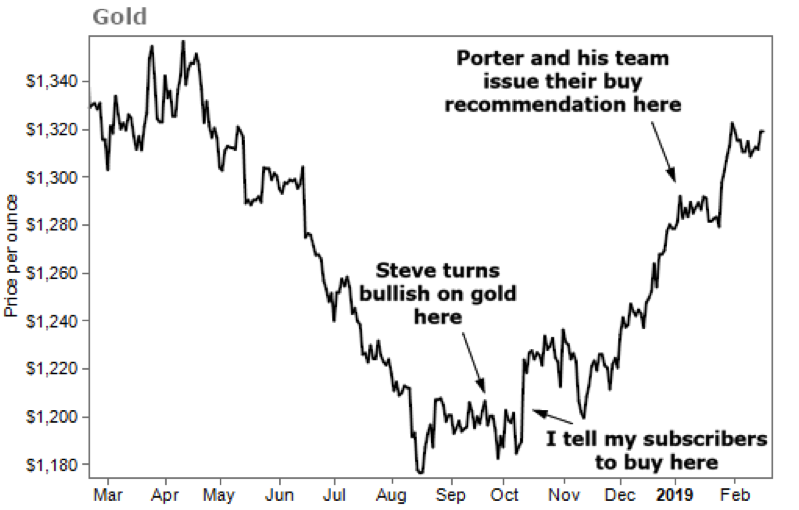 The price of gold is currently above $1,340 an ounce, the highest we've seen it since April 2018.
Steve's True Wealth subscribers are up 15% and 25% on the two stocks he recommended. My Retirement Millionaire subscribers are up about 12% since I made my gold recommendation. And only a month and a half into Porter and his team's recommendation, Stansberry's Investment Advisory subscribers are up 4%.
I bring this up because this type of situation rarely occurs.
Here at Stansberry Research, we pride ourselves about being contrarian thinkers. We don't follow the herd and we certainly don't let anyone pressure us into making recommendations we don't believe in. Being contrarians has led to some of the biggest gains in Stansberry Research history.
And if you're a contrarian, you may question whether gold is a buy now. After all, Steve, Porter, and I are all in unison. Typically, when everyone turns bullish on something, it's time to take the opposite side of that bet...
But I don't see the mass media turning bullish on gold just yet. When that happens and when you start hearing your friends at your next cocktail party talk about how much gold they just bought, then you'll know it's time to get out.
Gold, we agree on. The state and direction of the broader market... not so much.
I've become more conservative while Steve is going all in on stocks. And that's OK.
The best thing for you to do is to listen to and understand everyone's opinions. That way you can make your own decisions.
Fortunately, Stansberry Research and Dr. Richard Smith held the first-ever Bull vs. Bear Summit a few days ago. It was a great turnout. Over 70,000 people tuned in to hear our panel of experts debate whether you should load up on stocks now or play it safe.
I have one piece of advice for any bull or bear right now... don't be set in your ways. Don't be stubborn. You may listen to the bears and decide to be bearish, but always be on the lookout for new information and new data. If facts change, so should your opinion.
In the end, whether you're a bull or bear, success in the market comes down to proper position sizing and knowing when it's time to get out. These are by far two of the toughest things for individual investors to master.
And that's where Richard comes in... He's helped thousands become better and smarter investors. His TradeStops program is one investment you'll need whether you're bullish or whether you're bearish. TradeStops is a great way to take the guesswork out of following your stocks and protecting your portfolio. It's a must-have for any investor.
What We're Reading...
Here's to our health, wealth, and a great retirement,
Dr. David Eifrig and the Health & Wealth Bulletin Research Team
February 20, 2019