Doc's note: Today wraps up our essay series from my colleague Ben Morris, the editor of DailyWealth Trader.
Last week, Ben detailed a commodity that's hitting a decades-long low... and why it could start to rise. Today, he shows which company stands to benefit most from an agriculture boom.
***
Last week, I detailed how agricultural commodities are at a decades-long low... and why we could start seeing them rise soon.
Global demanding for food could skyrocket thanks to a growing global middle class and a growing population.
This demand could push agriculture commodities into a boom... and there's one stock in particular that tends to explode higher when agricultural commodities rise.
Agricultural commodities include things that grow out of the ground, like wheat, sugar, soybeans, corn, coffee, and cotton. And they grow better when fertilizer is applied...
And that's why today, we're talking about a company that I'll call Company X.
Company X is one of the largest fertilizer companies in the world. Its products help replenish depleted soils, keep plants green, and increase crop yields. And its mines are irreplaceable assets... no other company has as low a cost of production.
Farmers tend to use more fertilizer when crop prices are high. So fertilizer prices – and Company X's sales – rise along with them.
[optin_form id="73"]
In the 10-year chart below, you can see that each of the last two times that grain prices (represented by the Bloomberg Grains Subindex, the black line) made big moves higher, Company X's share price (the blue line) rocketed more than 100%.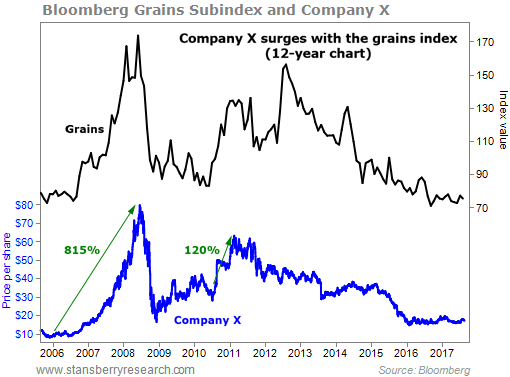 Today, grain prices look like they've hit bottom. As you'll see in the next chart, they trade right at their decades-long low – a level they've reached just before turning higher two other times.
If the grains start to rise, Company X shares would likely soar once again. And one indicator suggests that grains are getting ready to make that move...
The "Grains Stocks-to-Use Ratio" is a simple way of looking at grain inventories relative to their usage. When inventories rise relative to their use, grain prices tend to fall. And when inventories fall relative to use, prices tend to rise.
The chart below shows grain prices (the black line) and the Stocks-to-Use Ratio (the blue line). As you can see, grain prices are near long-term lows and the ratio is near long-term highs... And it may be starting to turn lower...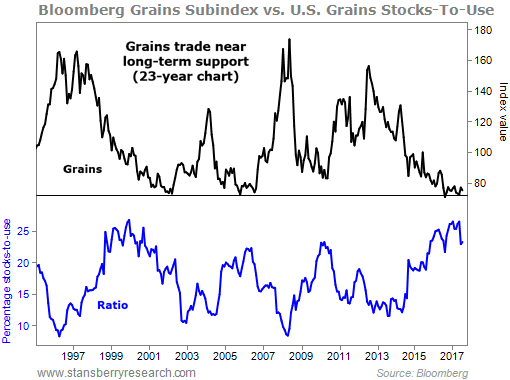 Last week, I told you that it's too soon to say whether another boom in commodities is beginning, but it's not too soon to dip a few toes in the water...
Considering the setup with grains, I suggest you use Company X as a way to do that.
With grain prices near a decades-long low and the Grains Stocks-to-Use Ratio near a decades-long high, now is the time to make a low-downside, high-upside trade. Company X is a great way to do it. Don't miss out.
If you want to learn more about Company X, and exactly how to play this agricultural trend, click here to get started with DailyWealth Trader.
Good trading,
Ben Morris