When is this thing gonna end?
My friends... My family... My co-workers... They're all asking this same question. I'm sure you've asked it yourself over the past few months as well.
Everyone wants to know, when will this bull market end? Have we seen a top in stocks yet?
Usually when a bull market ends, there is a "blow-off top" moment. My colleague Steve Sjuggerud calls this the "Melt Up."
This is when investors pile into stocks and push prices extremely high in a short period of time. In other words, toward the end of a bull market, investors who may not have participated in the rise of stocks suddenly do not want to miss out on the "easy gains" anymore. Typically, tech stocks benefit the most in a blow-off top market.
So far, we haven't seen this.
Sure, tech stocks have been profitable, but not absurdly profitable. Tech stocks, as measured by the Technology Select Sector SPDR Fund (XLK), are up about 13% year-to-date. That's a great return. But not a typical blow-the-top off return.
As a data-driven investor, I always look back in history to get of sense of what's going to happen next. And looking back, history suggests that we haven't hit a top yet.
Over the past 18 bull markets, the average return of the S&P 500 Index over the last six months of the bull market is about 20%. Folks always want to buy high, and the S&P 500 gaining 20% in the late months of a bull market is proof.
But if we look at the S&P 500's gains over the past six months of the current bull market, we're only up about 4.6%. Compared to previous bull markets, that's not exciting...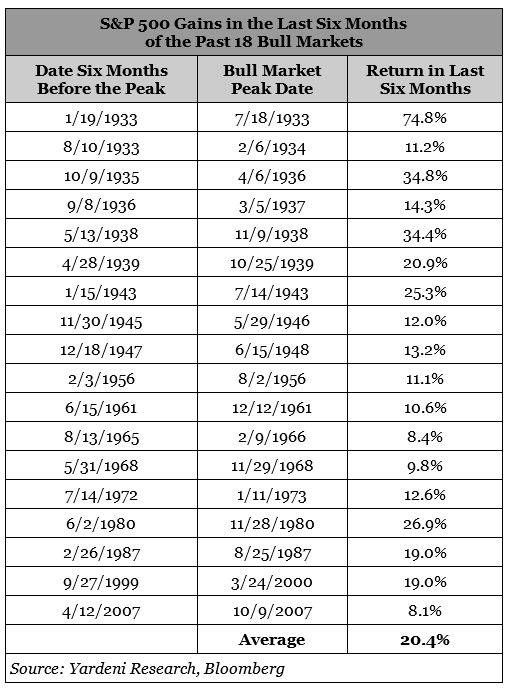 Most of these are textbook blow-off top returns. A 5% gain over the past six months is nowhere close to the average return of 20% over previous bull markets' final months.
The current bull market, which started in 2009, actually peaked back in January. In January, the S&P 500 reached 2,872 points, which is about 2% off today's level.
Back in January when the market peaked, the S&P tacked on 16% in the final six months. That's normal end-of-bull-market behavior.
But ever since the February correction, the S&P has done nothing but grind higher. And with the S&P close to January's peak, it's likely we'll see a new all-time high soon.
Are you living a millionaire lifestyle? Our free daily letter is your guidebook:
Please provide a valid email address.
The point is, there might be substantial gains to come. The numbers say so. And to be honest, it doesn't just feel like a top yet...
Think back a couple months to when all anyone would talk about was bitcoin. My research staff had friends who knew nothing about investing or finance asking them if they should buy bitcoin. That's what a top feels like.
It doesn't feel like everyone is rushing to their brokers to buy stocks right now. With a booming economy (the Wall Street Journal economists predict real GDP will grow 3% this year) and earnings coming in at all-time highs, investors should be hitting their buy buttons.
Don't be surprised to see a late-stage run-up in stocks in the next few months.
Regular readers know that I'm not as bullish as I've been in past years. I've become cautious. And my advice remains the same... Be cautious, but there's no need to sit on the sidelines.
It wouldn't surprise me to see the S&P 500 reach new highs and then explode higher in a matter of months. Take advantage of it... But be careful. Have an exit strategy.
We can't know for certain when it will end. That's why you need to be ready for anything.
Last night, several Stansberry Research insiders, including myself, talked about the No. 1 mistake investors are making... three things every investor should do... and the best way to prepare for whatever the market does next.
What We're Reading...
Here's to our health, wealth, and a great retirement,
Dr. David Eifrig and the Health & Wealth Bulletin Research Team
August 15, 2018