Doc's note: We're in the midst of a major shift in consumer shopping patterns. Some retailers have been able to capitalize from this shift, while others are getting left behind. In today's issue, Stansberry's Big Trade editor, Bill McGilton explains this unstoppable trend in retail and how you can profit from the losers.
And don't miss Bill's urgent market briefing this Thursday where he'll discuss trading today's unpredictable market and also share ways to protect yourself from a down market.
Click here to reserve your spot now.

The "retail apocalypse" is accelerating...
In 2019, more than 9,300 retail stores have shut their doors. That's 68% more than the 5,524 stores that closed in all of 2018.
And last year, 23 retailers filed for bankruptcy. Forever 21 – a mall staple that sells trendy fashion at affordable prices – filed its Chapter 11 paperwork at the end of September because it couldn't afford the rent at many of its locations. It shut 200 stores.
Children's clothing chain Gymboree filed for bankruptcy in January. That's its second bankruptcy filing in three years. Gymboree couldn't compete with other discount retailers and shut down 900 stores.
Last month, Pier 1 Imports' – specializing in imported furniture and decorative accessories – declared bankruptcy. It's expected to close 450 locations
This comes on top of Sears closing 107 stores in 2019, after filing for bankruptcy in 2018. And this year, it's wrapping up the closure of 51 more locations, which started in December. JC Penney closed 27 stores and Macy's closed 13 stores in 2019, and plans on closing 125 locations over the next three years... Clothing retailer Gap is expected to close 230 stores in 2020. Even pharmacy chain Walgreens – which is in decent shape financially – plans on cutting 200 stores in 2020 to cut costs.
The higher end of the retail ecosystem is equally dysfunctional...
Luxury department store Barneys New York filed for bankruptcy in August 2019 – for the second time. It previously went bankrupt in 1996.
Barneys has been a New York City landmark since 1923. Management, employees, and potential investors all went through a lot of effort to save it. But in the end, the numbers just didn't work. Barneys proved to be just as vulnerable to the common theme of high brick-and-mortar rents and declining foot traffic as its competitors.
Going forward, the brand owner of Authentic Brands will peddle Barneys' name. (This arrangement can take many forms, one of which is that garment-makers can sew a Barneys tag on their products for a licensing fee.) But Barneys as a department store is gone...
Barneys' then-CEO Daniella Vitale told employees, "While there are things I might have done differently, I don't believe it would have changed the end result."
In 2018, it looked like things were starting to improve. Department store same-store sales fell an average of just 4.5% per month in 2018, down from an average 7.8% per month in 2017.
But in 2019, the pressure was back on. Department store sales declined at almost twice the pace of 2018 – falling an average 8% per month in 2019, and are down an average of 9% through the first two months of 2020.
The retail apocalypse – the long-term trend of consumers migrating away from traditional storefront retailers to online vendors – isn't slowing down... It's accelerating.
At the start of 2010, e-commerce accounted for around 4% of all retail sales in the U.S. Ten years later, e-commerce has almost tripled to more than 11% of all retail sales. It's a $618 billion a year industry... But in the next few years, e-commerce is expected to increase to 14% of all retail sales, or $773 billion a year.
This is an unstoppable trend.
As you can see, some retailers have been able to capitalize on the shift in consumer shopping patterns, while others are getting left behind. The following table summarizes which retail models work... and which don't.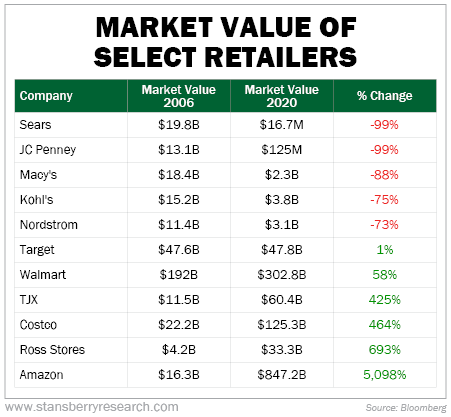 The models that work offer the most value for the lowest price. And almost all of them have strong e-commerce presences.
Discount chains like TJX (owner of TJ Maxx, Marshalls, and HomeGoods, among others) have been highly successful. Even though they don't have large e-commerce footprints, they do offer a bargain-hunting experience that's hard to match anywhere online.
These businesses can offer such great deals because they're smart with their purchasing... They buy surplus merchandise, leftover inventory from other stores, and out-of-season items.
The discount chains give customers what they want: great deals on quality items. And their model encourages impulse buying. Customers have to act when they're at the store or the item may disappear forever.
Mass discounters like Walmart and Costco, however, developed some of the best supply chains in the world – buying from manufacturers at the absolute lowest prices. They pass the discounts on to its consumers.
Cleary, the biggest winner is online retailer Amazon. With few physical stores to pay for, it can provide deep discounts to consumers along with the convenience of at-home shopping. Amazon is worth more than all the other companies on the list combined. That shows where retail has gone... and where it will keep going.
And while none of them pose any real threat to Amazon, more and more e-commerce competitors – some of which offer even better values – are coming online. We're talking about online consignment shops like thredUP, a large e-commerce thrift store where people can buy and sell secondhand items... and online apparel sites like Rent the Runway, a monthly subscription service for renting women's clothing.
Retail is continuing to evolve away from traditional purchasing habits and is moving toward online and discount options.
Take another look at the previous table. All the retailers that have lost significant market value over the past three years are department stores. They're failing because they offer a poor value proposition and are losing mass appeal, so their businesses continue to decline.
Those declines are what I look for in my newsletter, Stansberry's Big Trade.
Right now, we have a chance to see the next big drop coming... and potentially make 10 to 50 times your money or more during a unique span of time that historically occurs in the final stage of every bull market.
It's where the biggest gains are about to be made this year... and the perfect time for you to learn about this trade is today.
That's why this Thursday I'm hosting an emergency briefing. I'll explain why the market's next big move will take everyone by surprise... And how it could make you 10 times your money if you see it coming.
I'm also giving away the names of three stocks you should target immediately with my strategy, for 500% to 1,000% potential gains.
You don't want to miss it.
Click here to reserve your spot now.
Good trading,
Bill McGilton