Doc's note: In June, I told readers about a Father's Day gift that will last a lifetime... the OneBlade razor. Since then, several readers have asked if they can still get the OneBlade.
So today, I'm sharing that essay for all the readers who missed it. Read on to learn how you can get the world's best shave at an incredible price.
***
My dad was a typical "guy's guy"...
He wore a white T-shirt with a flattop haircut in the '50s... dress blues as a lieutenant in the U.S. Navy in the early '60s... and a coat and narrow tie as he sipped martinis at lunch later in life.
And every morning when I was growing up, he'd get down his shaving brush and razor from the cabinet.
He'd lather up with a soap mug... I can still remember the smell... before moving on to his double-edged safety razor...
There was something precise, even elegant, about watching him load a new blade... the quick flick of his wrist to spin the handle... the careful handling of the used blade before dropping it into a hole in the wall... the tightness of screwing the head back in its proper place.
It was a heavy, solid tool. Not like today's multi-bladed plastic junk.
Growing up, my dad's daily ritual seemed like part of what it meant to be a man. The heft of his razor and trimmer made it clear that they were tools meant to be used... and respected.
Today, I've had a beard for more than 30 years now.
And except for the times I shaved for my Goldman Sachs interviews, I've kept it growing, though well-trimmed. So I'm not really a razor aficionado anymore...
Yet when Porter started talking about his new razor idea, I listened.
His dream of building a precision blade... the best razor in the world... struck a chord.
It reminded me of my dad.
The heft and precision of this razor is incredible. It's made with German stainless steel, the best in the world. Then it's treated with a military-grade coating, making it permanently resistant to corrosion. It's guaranteed to never rust... and never break. Forever.
More important: It feels incredible. It's heavy. Smooth. Solid. And it looks slightly... well... dangerous.
But the floating-head design makes it as easy to use as any of today's modern cartridge razors. It "floats" across your face... not letting you push too hard on the blade or cut yourself. That's why it's safe and easy to use.
And it's great because of how well it shaves...
At our Alliance conference last year in Vegas, I let the barber, who Porter flew in for his stage demonstration, trim my neck underneath my beard... Wow. The cut was clean, with no whiskers pulled as a second or third cheap blade tries to cut it off and not clip skin with it.
The science of the single blade makes sense... Cut the whisker the first time, with the best blade the world can build.
Here's what Porter says:
A perfect shave like this happens when one super-sharp, flawless razor is applied at just the right angle (30 degrees) and with a precise amount of force... We built OneBlade to give men this good of a shave, every single day, without any shaving experience required.
This is an heirloom quality razor.
You'll teach your children... or grandchildren... to shave with this razor. And in the process, teach that proper tools require proper, careful use.
Right now, you can try OneBlade... or give it as an incredible gift... for just $299.
You'll receive a beautifully wrapped package in a leather carrying case, which includes your individually numbered OneBlade Razor. This razor will never rust... never break... and is guaranteed for life. And it comes with a stainless steel razor stand, built from a single piece of solid steel...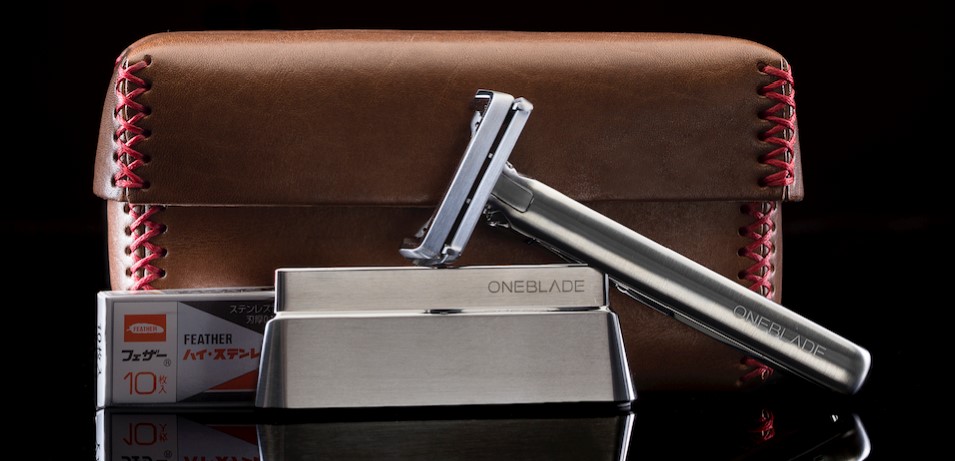 You'll also receive a premium OneBlade shaving kit, completely free of charge.
I mentioned that my dad used a shave brush and thick shaving soap. These are an integral part of a good shave...
So included in the premium shaving kit is a top-quality super badger hair shaving brush – "The Old Original" – handmade in England by Vulfix. And Porter is also sending you pre-shave, shaving cream, and aftershave balm from Castle Forbes... the best shaving set on the market today, bar none.
Altogether, the Vulfix shaving brush and Castle Forbes set is valued at $170. They're yours free when you try OneBlade today, or if you choose to give it as a gift.
Here's a summary of what you'll receive...
1. A OneBlade Razor, Razor Stand, and Leather Carrying Case
2. Ten (10) Single-Edge, High Carbon Stainless Steel Blades by Feather
3. A top-quality Super Badger Hair Shaving Brush – "The Old Original" – handmade in England by Vulfix.
4. Premium Pre-Shave, Shaving Cream, and After Shave Balm by Castle Forbes
Plus, to make this a truly wonderful gift-giving experience, all orders placed through this exclusive offer include complimentary premium gift wrapping and will be shipped out with a gift receipt.
Order a OneBlade razor for yourself or as a gift by clicking right here.
What We're Reading...