One of my favorite companies in the world has a name everyone's familiar with... In fact, you probably have a handful of its products in your house right now.

Johnson & Johnson (NYSE: JNJ) was founded in 1886. Today, it's the world's most comprehensive maker of health care products. It serves consumer, pharmaceutical, medical-device, and diagnostic markets. It has more than 250 subsidiary companies operating in 60 countries.

It has leadership positions in at least 23 distinct global health-related markets. It dominates markets like blood-glucose monitoring, blood screening and typing, disposable contact lenses, insulin delivery, low-cal sweeteners, oral rinses, minimally invasive surgery devices, over-the-counter drugs, sutures, and wound care.

It makes everything from baby oil to medical devices. It has powerful brands in beauty products (like Neutrogena), first aid (like Band-Aid), oral care (like Listerine), and medicine (like Tylenol). And many of its products are either No. 1 or No. 2 in their global markets.

Johnson & Johnson is the world's largest medical-device company. It is the eighth-largest drug company in the world. It's the fifth-largest biotech company in the world. It has marketed more than 100 different prescription drugs. It has 43 drugs with more than $50 million in sales, 31 drugs with more than $100 million in sales, and seven drugs doing more than $1 billion in annual sales.

You may think that J&J is a stodgy, old dinosaur, but it's far from it. It has actually grown earnings per share 21% since 2012, more than double the rate of the S&P 500 as a whole. It's paying out 3.2% as its dividend – which has grown 7% over the past three years. And it has bought back more than $10 billion in shares in the last three years.

In its most recent earnings release, J&J posted year-over-year growth of 1.8% in earnings and 3.9% in sales in the last quarter.

And J&J's stock is relatively stable compared with the rest of the market. It has a "beta" of just 0.8, meaning its average moves are less severe than the overall market's. That makes J&J a great opportunity as a strong performer in a weak or even down market. That looks like a win-win to us.

Financially, Johnson & Johnson is like Microsoft. It's one of the safest companies you can invest in. Like Microsoft, J&J has a triple-A-rated balance sheet. That's as safe as it gets. J&J has more than $40 billion in cash and securities and about $23.6 billion in debt. Johnson & Johnson's net income covers its interest expense more than 46 times.

Johnson & Johnson has raised its dividend every year for the last 53 years in a row. Its dividend has grown at an average annual rate of 7.1% for the last three years, and I see no reason for growth to slow down much...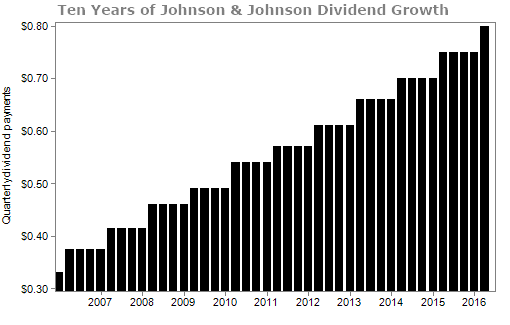 Johnson & Johnson's earnings cover its dividend two times. Given the company's large size and how difficult it is for a big company to grow very fast, Johnson & Johnson's dividend growth could accelerate as the company continues to grow. It'll continue generating cash due to its top market positions, but as a giant company, it won't be able to spend the money to grow very effectively. So it'll have to pay out more of its earnings in dividends.

Johnson & Johnson's dominant market position makes its dividend very safe. Its sales and profits have grown more than 10% since 2010, now reaching $74 billion a year. There's little reason to believe sales and profits won't continue to grow. Even if there's another serious crisis, sales will likely grow slowly at just a few percent per year.

This company is one of the best-managed businesses trading today.

That's why JNJ is just one of the 25 high-quality blue-chip stocks I feature in
The Blue Book: An Unconventional Way to Upsize Your Retirement
. In this book, I explain how to use options to earn safe, reliable income on some of the world's best companies.

Only subscribers of my trading service –
Retirement Trader
– have access to this book. 
Click here
to learn more about
Retirement Trader
and
The Blue Book
.
***
What We're Reading...