Over the past decade, investors have shunned this group of stocks...
They've been an afterthought as other stocks have continuously rocketed higher. And today, they've been beaten down to an extreme low.
Are you interested yet?
After reading today's essay, maybe I'll convince some of you to put a portion of your money to work with this group of stocks...
The truth is, most of you probably fit into one of two categories – value investors or growth investors.
Value investors love a great deal. They scan the markets for companies that are trading for less than their intrinsic value. All it takes is for a stock to return to what it should be worth for the value investor to make a healthy profit. No wild gambling or waiting for some big event to happen... just a return of the stock to fair value.
Growth investors buy companies that increase their sales year after year at a high clip. The companies they buy are usually in a new and upcoming industry – mostly tech. And as we told you last week, all the craze lately has been Software as a Service ("SaaS") companies. These stocks have been on fire over the past 12 months and may continue to run up even further.
The average investor loves growth stocks. They're easy to spot, and their promise of big gains would tempt anyone.
For example, you notice your children and their friends are glued to their gaming systems. You check to see what games they're playing and realize they're all made by the same company. If a company can turn your kids into mindless zombies playing games for hours on end, it must be growing like wildfire.
One quick look at the company's financials on Yahoo Finance and you see that you're right... That company is practically printing money at an incredible rate. You invest and make a killing in a short amount of time (hopefully).
Some of the best investing ideas are created by real-world observations like in this example.
Value investing isn't that easy. You can't walk past a store and know right away that it's undervalued. You can't walk up to a cashier and ask what the store's price-to-earnings (P/E) ratio is and what it has historically been trading at.
Value investing takes a lot of work. You have to do quite a bit of research and most importantly, you have to be patient.
From my experience, the average investor isn't patient. He wants to get rich quick.
It's more fun to be a growth investor... It makes you sound more exciting to your investor buddies. And growth investing has been more profitable historically, too.
As you can see in the chart below, value stocks are at an extreme low right now compared to growth stocks – even worse than the dot-com bubble...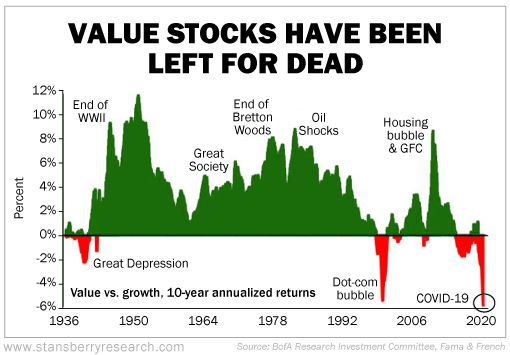 My senior analyst and I shared this chart during our most recent COVID-19 briefing. We've long talked about how beaten down value stocks have become and that they had to turn around... eventually.
But month after month, it keeps getting worse.
Now that value is at an extreme low compared to growth, it might be time to buy. During the COVID-19 briefing, I told listeners that I was thinking about buying more value funds.
Whenever something is at a massive extreme, it gets me interested. Value has long been forgotten about because of high-flying tech stocks. But eventually, it will outperform. And we might be getting close to that.
Now, to be clear, I'm not recommending everyone go out and sell their tech stocks and put all that money into value funds. You never want to make an "all or nothing" decision.
Instead, you want to tilt.
Simply tilt your portfolio so that it's fairly aligned with the opportunity the markets give you today. Today, I'm getting more interested in value stocks given the extreme we're currently seeing.
Maybe you can use some of the cash you have laying around to buy a few shares of a value fund. Nothing too drastic. Just get a bit of exposure.
With such an extreme ranger between value and growth, it just feels like the time to own some value stocks.
What We're Reading...
Here's to our health, wealth, and a great retirement,
Dr. David Eifrig and the Health & Wealth Bulletin Research Team
September 23, 2020