Doc's note: Most investors know they should be diversified, but they aren't. And, as my good friend and colleague Steve Sjuggerud explains in this essay from DailyWealth, things have actually worked out well for those investors.
But that is about to change. And if you're not ready, you'll ruin your portfolio...
***
I bet you're guilty of it.
If you are, don't feel bad. You're not alone... Nearly all investors are guilty.
If you're an American who sticks to buying U.S. stocks, you've gotten lucky. This strategy hasn't burned your portfolio... yet. It's actually helped you instead of hurt you – at least, over the last decade.
But I'm certain that will change... And it will hurt your net worth over the next decade. I urge you to recognize this, and get out ahead of it.
So what is it?
It is investing way too much money in your home country, and not enough in the rest of the world.
The fancy term for this is "home-country bias." And nearly everyone does it...
For example, Canadians and Australians typically have 60% of their stock portfolios invested in their home-country stocks – even though their stock markets make up only a small slice of the global stock market pie.
It even happens within the U.S... For instance, Californians tend to have tech-heavy portfolios. Folks from the Northeast are loaded up on banks and financial companies. Investors in the South have too much money in energy and oil. And Midwesterners prefer industrial stocks.
Are you living a millionaire lifestyle? Our free daily letter is your guidebook:
You can understand why people do it... The old adage to "invest in what you understand" is solid advice. And people best understand what's nearby.
The thing is, most people take this idea way too far... And the fact that "nearly everyone does it" doesn't make it right...
In short, if you have all your eggs in one basket, you are poorly diversified.
As I mentioned a moment ago, if you've been investing this way over the last decade, things have actually worked out well for you...
The following chart shows how U.S. stocks have soared by more than 100% from the last peak in global stocks back in 2007. Meanwhile, stocks in Europe and in emerging markets have done just about nothing. Take a look...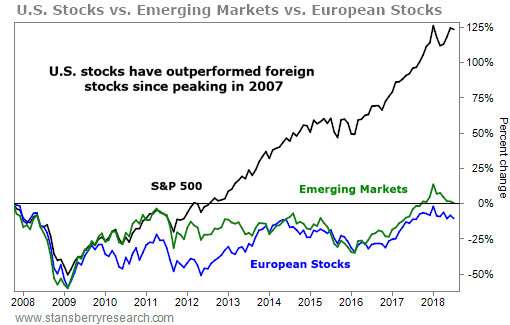 So congratulations... If you are like most Americans, and 70% or more of your stock portfolio was in U.S. stocks over the last decade, you were lucky.
But please, don't assume that the next decade in stocks will look like the last... Instead, you should assume the opposite.
Today, after a decade of incredible U.S. outperformance, foreign stocks are particularly cheap relative to U.S. stocks...
You can see it by looking at the forward price-to-earnings (P/E) ratio. This is a simple valuation tool for an "apples to apples" comparison of the global stock market. U.S. stocks are about 40% more expensive than stocks in emerging markets, and 25% more expensive than European stocks...

This doesn't mean the U.S. market has to crash. I actually expect it to go much higher before an eventual decline. (Longtime DailyWealth readers are familiar with my "Melt Up" thesis.)
Still, the way I see it, my job is to find the safest, highest-returning investments I can.
It doesn't matter if it's Chinese stocks across the world or Florida real estate in my backyard. The more you make different kinds of investments, the better diversified you are. And that lowers the overall risk in your portfolio.
So again, if your portfolio is mostly "home country" investments... and you're not diversified much outside of the stock market... then you need to make some changes.
If you are not diversified, it's going to hurt your net worth in the coming decade. I'm certain of it.
Good investing,
Steve