Around the office, we call him the "perma-bull."
No matter what's going on in the world, he always seems to be bullish. For years now, as stocks kept making new highs, he kept saying that stocks can still go higher. The economy kept chugging along and so would stocks.
And he's been right. He kept his bullish stance from the time he started working at Stansberry in 2013 to the time COVID-19 wrecked the market. The S&P 500 Index is up a staggering 122% since then.
The coronavirus and its impact on the market was a black swan event. No one could have seen that coming. But it did change the landscape for the economy and for stocks moving forward.
Despite one of the sharpest recessions in history, stocks are back near new highs today.
And the perma-bull, well, he's bullish again. But not the way you may think...
My senior analyst, Matt Weinschenk (aka the perma-bull), and I recently gave a presentation at our annual Stansberry Conference & Alliance Meeting. We covered everything from the virus itself, to the economy, to our No. 1 stock pick for the year. (If you're a Retirement Millionaire subscriber, you already own this stock.)
When we started talking about the stock market, here's what Matt had to say...
Valuations are extremely high. They're not a little high... they're extremely high. The forward P/E ratio is now at 26...
And the U.S. compared to the rest of the world has had an incredible performance. Essentially off the charts. You can use that term here without any hyperbole...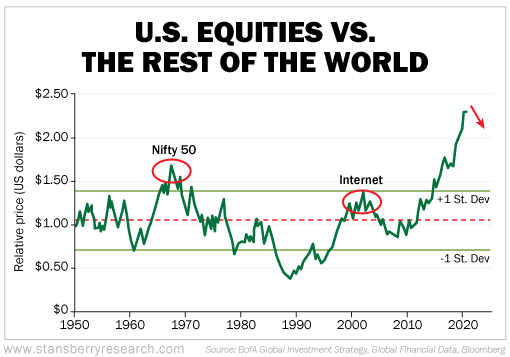 Obviously, that's not what you want to hear from one of the more bullish analysts at Stansberry Research. It's scary stuff. But over the short term, that shouldn't matter much.
Matt went on to talk about his view over the next 12 months...
I've gotten more bullish on the next year. It looks like we might have a unified government and if they can come in and produce the stimulus we need in the short term, there might not be much to worry about... in the short term.
It's also no hyperbole to say the government's response to the coronavirus has been unprecedented. We'll likely see a new multi-trillion-dollar package approved soon.
There's one thing Washington can't afford... and that's to let the economy suffer.
I also want you to consider interest rates. They're near zero today. And that's a huge tailwind for the market.
Investors and economists alike view lower interest rates as catalysts for growth. Lower interest rates lead to more personal and corporate borrowing. And that of course leads to a robust economy and greater profits for corporations.
We already know the Federal Reserve's plan is to keep interest rates low for a long time. The Fed sees interest rates near zero through 2022. Remember, this is what Fed Chairman Jerome Powell had to say a few months back...
We're not thinking about raising rates. We're not even thinking about thinking about raising rates. What we're thinking about is providing support for the economy.
With the Fed's support, a stimulus package that we believe will be passed soon, and a recovering economy... the outlook for the market looks pretty strong over the next few months.
Over the long-term, it's a different story.
Over the next few years, I'm a little worried. To me, businesses have taken on too much debt. Corporate debt as a percentage of gross domestic product ("GDP") is now at 56%, thanks to the plunge in GDP. The previous high during the dot-com bubble and housing bubble was only 45%.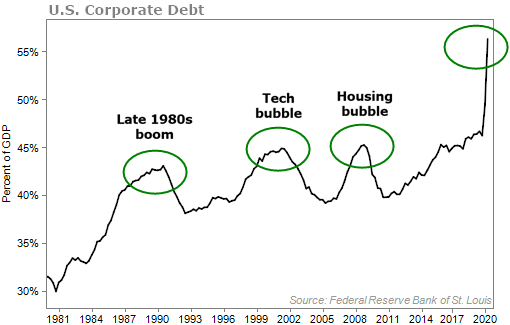 But companies have also been able to "kick the can down the road" because of historically low borrowing costs and because of the massive amount of government support.
Eventually, someone has to pay up. When that day comes, you do not want to be fully invested in stocks.
Also, remember what the premium stocks are trading for. If history is our guide, and with today's price-to-earnings (P/E) ratio at 26, we're looking at something akin to returns of negative 5%.
Over the long term, there's worry. But that doesn't mean there aren't opportunities to profit in the short term.
All of the catalysts for a boom in stocks is present. There could be incredible gains over the next few months.
To help you find where you can put your money to work now, Dr. Steve Sjuggerud is hosting a 100% free "Melt Up" event at 8 p.m. Eastern time tonight. During tonight's event Steve will explain what's going on with the market today and what it means for your money.
This is an evening you won't want to miss.
Steve will even be giving away the name and ticker of a recommendation that he believes could go up as much as 350%.
Click here to reserve your spot.
What We're Reading...
Here's to our health, wealth, and a great retirement,
Dr. David Eifrig and the Health & Wealth Bulletin Research Team
October 21, 2020