Individual investors are panicking, just like the big institutions. They're yanking billions of dollars from the stock market.
As a contrarian, I (Jeff Havenstein) couldn't be happier.
What we've seen over the past year is setting the table for even more gains over the next 12 months. In short, you don't want to be sitting on the sidelines for much longer.
According to data from S&P Global Market Intelligence, institutions have pulled a net $333.9 billion from stocks over the past 12 months. Individual investors took out $28 billion. Take a look...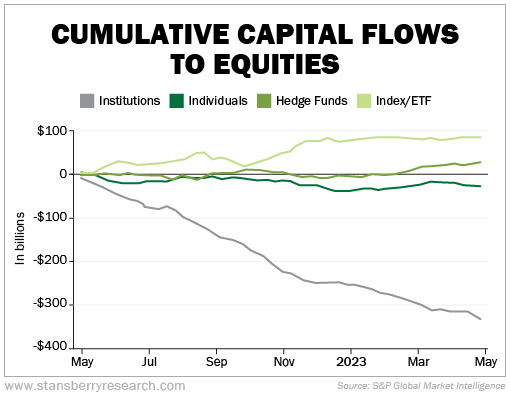 A lot of money has been flowing into cash and other cash-like securities. As of May 10, total assets in money market funds rose to a record $5.3 trillion.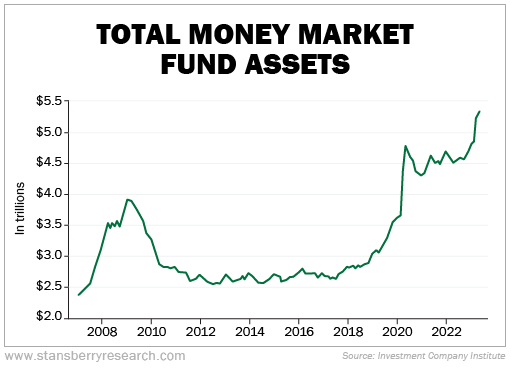 Big banks and retail investors are clearly worried about the stock market. They want nothing to do with it. They still see high inflation numbers and they're scared that the regional banking turmoil we're seeing could morph into something worse.
Here's the thing... Investors have become too bearish.
Big fund managers have spent too much time this year buying market protection and hiding in cash. It may very well cost them their jobs...
According to Bank of America Global Research, only 1 in 3 actively managed large-cap mutual funds beat their benchmarks in the first quarter. That's the worst performance since the fourth quarter of 2020.
The S&P 500 Index is up over 7% this year. The Nasdaq is up even more, about 18%. But most folks haven't seen these gains.
Fund managers are going to have to start buying stocks or else this underperformance will continue. And that's by far the worst thing a fund manager could do... A couple quarters of trailing the S&P 500 and they are packing their bags looking for a new job.
These funds must do better than the S&P 500, because why would an investor put money into a fund with higher fees than a simple S&P 500 fund when it does worse?
I'm willing to bet we'll start to see capital outflows to equities slow in the coming weeks. And if investors decide to front-run the Federal Reserve, meaning folks would buy stocks if they thought the Fed was going to stop raising rates, or even cut them... then we could see a lot of money being dumped into stocks.
As contrarians, we love opportunities like this. They don't come around too often.
Make sure you have money invested in the market. I'm expecting stocks to finish higher to end the year.
What We're Reading...
Here's to our health, wealth, and a great retirement,
Jeff Havenstein
May 17, 2023