There's an assault on cable companies...
Folks across the country have been cancelling their cable subscriptions in a hurry. In 2017, eMarketer estimated that 22.2 million cable customers cancelled their subscription, up from 16.7 million in 2016.
And that's just the beginning...
By 2021, an estimated 40 million folks will "cut the cord."
I've written before showing the different options you have if you want to fire your cable company.
Since we originally published it in late 2015, the number of alternatives to regular cable has seen incredible growth...
Along with the options we already published, you can now watch content through streaming services such as YouTube TV, DirecTV Now, PlayStation Vue, FuboTV Premier, Philo... this list could go on for a while. But, you get the point.
Streaming companies are clearly more than a fad. They're here to stay. And they're disrupting the TV industry forever.
It's not every day you can clearly identify a massive change in long-standing industry. As an investor, this is what gets me excited.
I know online streaming is the future of content delivery, and I know that traditional cable is going to suffer because of it. The only question is, how can we profit?
Stansberry analysts keep debating each other about this topic. Some want to bet on the emergence of individual streaming companies, while others want to bet against the companies that will soon become obsolete. So let's look at the options...
Buy the Upside
The most obvious way to benefit is to buy the stocks of the streaming companies. If you bought the behemoth in the space – Netflix (NFLX) – anytime in the last decade, you've made a lot of money. Other giants that offer streaming services are Apple (AAPL) and Amazon (AMZN). They'll continue to innovate in this market and are compelling buys.
You can also buy smaller streaming companies that you think have a shot to capture significant market share. An example is Roku (ROKU). You might remember a few years ago, I recommended the product and bought several as Christmas presents for my family. Today, so many other folks I know have one. Roku went public last September and its share price has been on a tear since...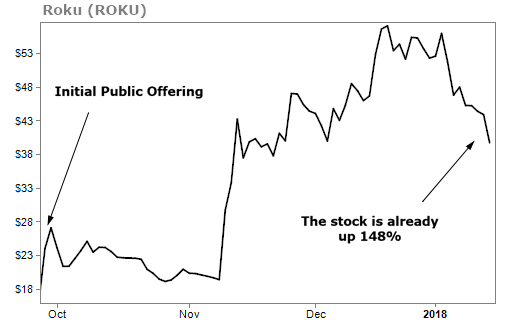 Investors who bought Roku the day after its initial public offering (IPO), could have turned a $10,000 investment into $24,800 in just under four months.
This is a company that has increased revenue by 40% in the past year and increased its streaming hours by 58%. The only question is if Roku will keep growing its market share or if increased competition will hurt its revenues.
The key is to invest in companies that are either first market movers or who have some type of competitive advantage.
Those are the companies you want to buy.
[optin_form id="73"]
Win Big With the Losers
Now, there are a couple ways to play the other end of the trade... By betting against companies that stand to lose revenue because of cord cutting. For those who aren't familiar, you can bet against a company by shorting a company's stock...
This is where your broker borrows shares from another investor and sells them into the market on your behalf. The hope is that the stock plummets. You can then close the trade by buying back the original shares. Your profit is what your broker initially sold the stock for minus the price you bought back the shares.
The cable providers are the obvious target for a short-sale.
As you can see, Netflix already has more subscribers than all the major cable providers combined...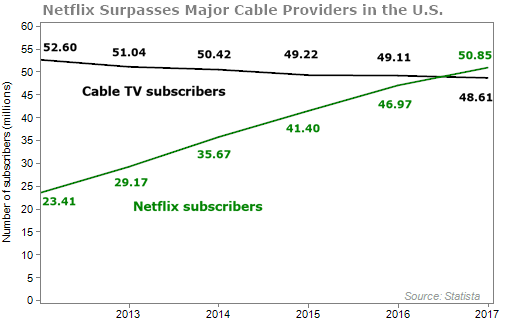 This is a trend that will only continue in the years to come... And cable providers will continue to lose sales because if it. But you should be careful, because a lot of cable providers earn a large portion of their revenues through Internet sales. As everything is hooked up to Wi-Fi these days, those sales can offset some of the losses from the decline in TV subscribers.
Perhaps the more interesting trade is to short the TV content providers. These are the networks that produce the TV programs that fewer people are watching. As a result, they'll generate less advertisement revenue.
Whether you bet on the up-and-coming streaming companies or on the destruction of companies attached to old-age TV ways, both have the potential to produce excellent returns.
The point is, when you know a particular market is going to undergo a major transformation – whether it's because of a disruptive technology or a shift in consumer preference – take advantage of it...
It's not every day you get these opportunities, so set yourself up to profit.
What We're Reading...
Here's to our health, wealth, and a great retirement,
Dr. David Eifrig and the Health & Wealth Bulletin Research Team
Baltimore, Maryland
January 17, 2018