Volatility in the market is spiking… does that worry you?
If you're like many investors out there, it probably does. After all, things feel a little too good right now…
The S&P 500 has doubled since it bottomed out in March of last year. It's even up 31% from its pre-COVID high.
And for the most part, it's been on a one-way ticket higher.
The chart below looks at the S&P 500 over the past year. Back in the fall, there were some sizeable market drops of 9.6% and 7.5%. But since then, we haven't seen a drop greater than 5%…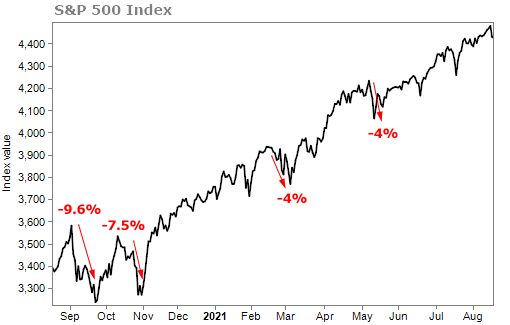 It's rare that you'll see the market continue to make new highs without a few drops of 5% or 10% in between. Even during the dot-com boom back in 1999 and 2000, the tech-heavy Nasdaq had a few corrections of 10% or greater as the index went on to soar over 200%.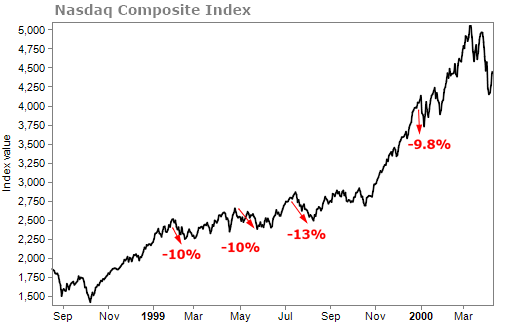 As I always say, market corrections are just part of the game.
And it's clear that we're overdue for a pullback.
Since volatility has picked up in recent days – with the Dow Jones dropping about 100 points yesterday – there's been a lot of chatter that this is the beginning of a market correction.
And I get it. There's a lot to be concerned about…
First, new COVID-19 cases have been trending higher thanks to the Delta variant. That's lead to many cities imposing new restrictions, which could ultimately slow economic growth.
There's also concerns about inflation, which should be taken seriously. Over the past year, home prices are up 16%, used-car prices have surged 45%, and gas prices are up roughly 52%. Even the price of a gallon of milk costs 11% more than last year.
Inflation is here. It's real.
Finally, there's the sky-high market valuations. The S&P 500 trades for 27 times earnings when it has historically traded for 17 times earnings.
History tells us that reversion to the mean is inevitable. Prices can't remain this rich forever.
Add all this up, and you can see why a lot of investors are nervous.
The recent University of Michigan Survey of Consumers report was a shocker… The Consumer Sentiment Index hit its lowest level in about a decade…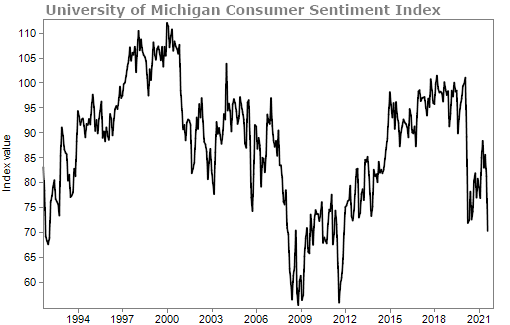 If consumers are losing confidence, we could see more days like yesterday in the near future. It wouldn't surprise me if the market went on to fall another 5% or even 10% in the coming days and weeks.
But even if that happens, you shouldn't panic.
I can't stress this enough… Market corrections are a normal part of the market cycle. They're unavoidable. And they'll happen when you least expect it.
That's why I recently revealed a special presentation where I outline, as simply, plainly, and clearly as I can, what has happened in recent months, and what is inevitably coming next.
I explain exactly what's going on in America, why you should be concerned about what is coming, and four steps that every American should take right now.
If you care about your money, finances, or retirement, I urge you to watch this today by clicking here.
What We're Reading…
Here's to our health, wealth, and a great retirement,
Dr. David Eifrig and the Health & Wealth Bulletin Research Team
August 18, 2021