Doc's note: The companies grabbing headlines aren't always the best places to invest your money. That's not how smart investors do well in stocks...
That's what Empire Elite Growth editor Enrique Abeyta explains today and why we're in the middle of a "unicorn bubble" you need to avoid...

My first day on Wall Street was the day that Netscape went public – August 9, 1995.
I remember that day like it was yesterday... Everyone on the trading floor (not just equities, but even the bond floor) was buzzing about this stock that skyrocketed from $28 to $75 immediately, especially since the company was losing a lot of money at the time. No one had seen anything like it...
Now that I'm a grizzled veteran, I'm often asked, "What did it look like during the technology bubble?" or "What did it look like during the mortgage bubble?"
During those periods, I remember the giddy excitement of people who had gotten in early and made money – at least, on paper. During Internet 1.0, these were my friends who were working at dot-com companies in New York City. Sadly, few of them were clever enough to cash in before their paper fortunes were vaporized. During the mortgage bubble, it was friends buying houses and condos in Florida and Arizona and flipping them before they were ever even built.
For this (mini) unicorn bubble, I think the sign of a top was public stock mutual funds coming in full bore. The Wall Street Journal notes that around six out of 10 mutual-fund companies now own private shares... more than twice the number of funds from five years ago.
As I saw this happening in recent years, I remember thinking to myself, "Wow, there are some smart folks at these mutual funds but for them to be leading private-equity rounds seems like a stretch!"
Well, I think when we look back at the unicorn bubble, we will remember things like these mutual funds and WeWork and say, "That was what it looked like... "
WeWork is a disaster. But it's not the only one.
Just take a look at how the stocks of "unicorn" companies that went public in the last few years have performed...
Rather than the usual definition of unicorn – a company that has achieved at least a $1 billion valuation in private financing – I looked only at companies that raised at least $1 billion before going public, which I call "super unicorns."
Removing a few Chinese companies, here's the list of the nine companies that made the cut: Cloudera (CLDR), Dropbox (DBX), Spotify (SPOT), Lyft (LYFT), Pinterest (PINS), and Uber (UBER).
As you can see from this chart, all of them are down from their closing prices on the first day of trading... And three of them are down more than 30%.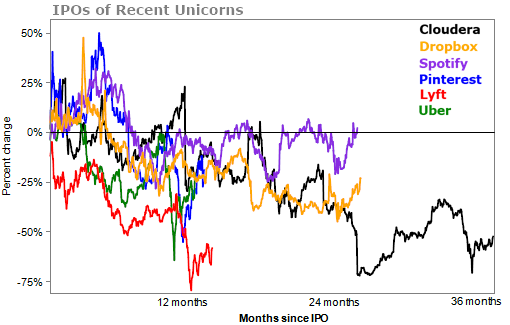 The good news is that the bursting of the unicorn bubble is likely to be much less impactful on the economy than the bursting of the prior two bubbles.
And there is still plenty of money to be made on the short side in stocks like Slack Technologies (WORK) and Uber.
How many of these companies will even exist in two years? Is there any reason they should?
Uber is an awesome product. I use it all the time. But last Thursday, Uber announced it lost nearly $3 billion in its first quarter. While the company attributes much of the loss to the COVID-19 pandemic, it's no stranger to big losses. In 2019, Uber lost $8.5 billion! Last year, the company still burned $4.8 billion in cash (operating cash flow losses of nearly $4.2 billion and capital expenditures of $588 million) – and the cash burn is accelerating.
Eventually, I think Uber will likely join the likes of Excite, the Globe, boo, and Pets.com on the junk heap of history.
The slaughter of the unicorns (and their imaginary valuations) continues...
Happy hunting!
Regards,
Enrique Abeyta
P.S. In my recently launch newsletter, Empire Elite Growth, I follow five rules: big opportunity, common-sense test, growth, executing relative to expectations, operating momentum, and looking for stocks that have gone out and that the market is responding to.
And I'm using my strategy to create a small portfolio of rigorously selected, hypergrowth stocks... with a minimum target upside of 500% to 1,000% or more. Click here for all the details.