More deaths... Another shutdown... Massive unemployment.
Everyone's worried about the second wave of COVID-19 and what it will do to our country. But we're getting ahead of ourselves. We're still not out of the first wave yet.
That's a problem because with states opening back up, folks aren't taking the proper precautions to stay safe. And we're seeing that play out in states that took longer to shut down.
Florida now has a surge of cases. Although President Trump declared that every state was under a major emergency declaration, a handful of them never ordered shutdowns. Of the states that did order a shutdown, Florida took the longest time to do so. It was well over a month after the initial public health state of emergency came on March 1.
In the Northeast, states shut down quickly after the state of emergency, averaging two weeks or less in response time. New York, for instance, shut down only 13 days later.
This lag in shutdown times is just one factor for what we're seeing today: areas like the Northeast have passed their peak, but other areas like the South, are still in the upswing.
Take a look at this chart from the COVID-19 Tracking Project at the Atlantic: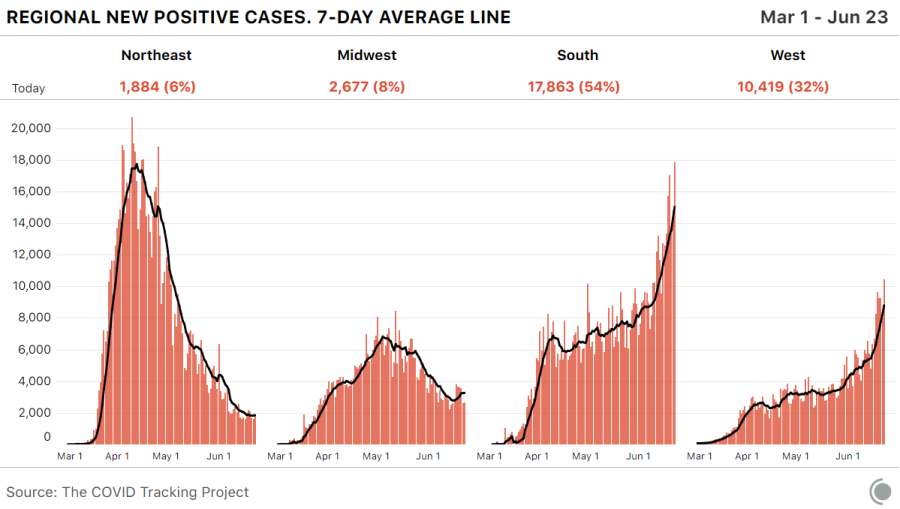 You can see that cases in the South and the West are both still climbing.
As I mentioned, the shutdown timing was just one reason.
I've said since February that COVID-19 is likely seasonal. So as the temperatures warmed, it wouldn't spread. I think that's why we've seen the delay in warmer areas like the South. States like Arizona, Texas, and Florida are only just now seeing spikes.
And remember, older folks are much more at risk. Florida still has one of the highest populations of folks over 65.
So even if seasonality slowed the spread as temperatures rose, guess what happened? As summer started in these hot states, folks huddled inside with the AC. That's a breeding ground for an airborne disease like this.
Don't Miss My Just-Released Report!
In March, President Donald Trump signed a historic $2 trillion stimulus bill – the CARES Act – to try and contain the economic devastation caused by COVID-19.
There are already talks of a second stimulus payment. So it's clear that the federal government is willing to spend whatever it takes to keep this from becoming a depression. And since 2020 is an election year, the president is even more motivated to get the economy back on track.
What is less clear is exactly what this stimulus bill means for you.
That's why I've just released a new report for my Retirement Millionaire subscribers to help understand what's really happening with government relief bills... how to take advantage of what's being offered... and how to get through the coming months.
It's called, Everything You Need to Know About the CARES Act.
If you're not already a subscriber, click here to get started today and receive instant access to my new research report.
Another important point to keep in mind – overall as a country, we've plateaued in the number of new cases. That's due to the reproductive number. R0 is a measure of the infection rate of a virus. If you're at 1, that means every one person infected will infect one other person. If it's more than 1... you start to see pandemics. Less than one... the virus is under control.
We're hovering around an R0 of 1 right now. Some states are lower, some are higher. But collectively we have not seen that drop-off, which would signal the end of the pandemic's first wave.
Will we see death rates climb soon with these new outbreaks? Possibly. But that brings me to my last factor: Age. The average age of someone diagnosed with COVID-19 has dropped significantly. That's due to a few things...
At the onset, we prioritized testing for older folks
More testing is now available, so more people of all ages are getting tested
Younger folks haven't had to follow as many recommended restrictions, so they could have gotten it more easily
In Florida, for example, the median age for positive tests now is 35. Back in March, it was 65.
But we know younger people don't die nearly as much as older ones. In fact, if you look at data coming out of states like Texas right now, you can see that if you're in your 30s, your risk is about 0.4%. But once you hit 70, that jumps up to 10% and only gets higher from there.
Could we see another surge in places like the Northeast again this winter? It's likely. As I've said this whole time, I think this will wind up being a seasonal virus just like influenza and other coronaviruses. Will it lead to the same economic turmoil? We'll see...
Until then, I urge you to tune into my weekly COVID Conversations to stay updated on all the latest news. My senior analyst Matt Weinschenk and I dive even deeper into the virus, the economy, and the market. You can listen to all the episodes here.
What We're Reading...
Here's to our health, wealth, and a great retirement,
Dr. David Eifrig and the Health & Wealth Bulletin Research Team
June 30, 2020