Often referred to as the "fear index," the CBOE Volatility Index (the "VIX") measures how much investors are willing to pay for wealth protection.
It's a little like looking at how much people are paying for flood insurance in a city and using that to deduce how often floods hit the area.
A low VIX means people aren't expecting much action in the markets. They're not fearful.
A rising VIX signals that people are expecting more volatility in the market and that people could be getting fearful.
When there's less fear and people are putting their money into the market, you see the VIX fall and stocks rise.
For the last two years, the VIX has settled at historic lows. Investors just aren't fearful.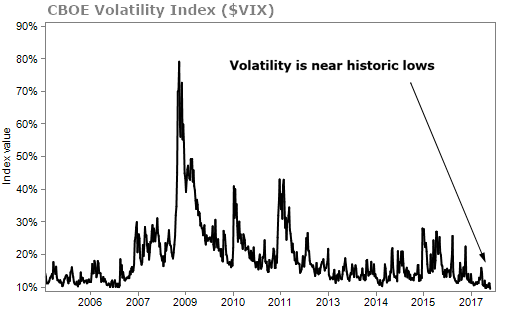 But how can that be? To anyone watching the news, the world looks to be more uncertain than it has been in the last decade.
Politics in the Western world are highly divisive. Europe has seen stadium bombings, mass shootings, and vehicle attacks. Over 65 million people have been displaced from places like Syria and South Sudan. Russia flat-out invaded a neighboring country and North Korea just tested its first intercontinental ballistic missile (ICBM).
We can't make predictions about exactly what will happen. But the odds of some sort of conflict have been rising. Shouldn't the market reflect that?
It does. Just not with the VIX. Specific fears about global security have been appearing in other places.
By understanding this, we can find where the fear does manifest itself and look there for an opportunity to build wealth.
Take the stock of G4S (LSE: GFS)...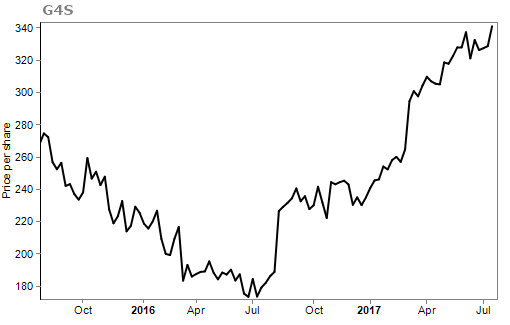 This company employs over half a million security consultants, guards, and support staff across the globe.
How would you feel if you were planning to host a crowd on the streets of London? What if you had to carry a few bags of cash through Rio De Janeiro? Or how about if you had to transport a group of important folks across Yemen?
I sure as hell wouldn't do it without a robust security plan. People realize that it's a scary world and they are paying for security services to keep them safe. That's why shares of G4S have almost doubled in the past year.
Or take the trouble in Syria...
In April, Trump blasted a Syrian airbase with 59 Tomahawk missiles. Each missile cost about $1 million (and the new, more advanced replacements cost even more).
Since the launch, shares of missile-maker Raytheon (NYSE: RTN) have risen more than 13%, continuing an upward march.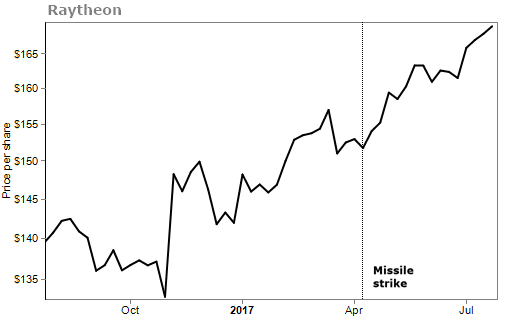 Even though a $60 million sale means little to Raytheon's $25 billion a year in sales, it's the fear of bigger conflicts driving prices up.
When you look for a new "fear index," you can find it in the stocks of defense and security companies like these.
Last week, I showed you how the U.S. military has dropped to its lowest level of readiness in decades. The U.S. hasn't prepped for these new hazards.
But it's clear that financial markets see rising threats.
In our portfolios, we're preparing for the inevitable ramp up in spending that will come as geopolitical tensions rise.
Over the past fifteen years, the U.S. has spent $40 billion on missile defense. In May, the U.S. shot down a dummy ICBM in the first successful live-fire test of our missile defense system. But it's far from perfect. Of the last five similar tests, we've only had a 40% success rate.
In May, the Pentagon requested $7.9 billion for the Missile Defense Agency in 2018. Since North Korea successfully launched an ICBM, the pressure to improve the system has risen.
Just this month, China's first aircraft carrier sailed into Hong Kong's waters as a show of force. The ship, named the Liaoning, puts China as only the seventh country in the world to float a carrier.
Meanwhile, the U.S. still sails a carrier that's 42 years old. But we're currently in the process of replacing all 11 ships in our fleet.
We've collected investments focused on these trends in a report called "The Five Investments You Must Buy Now to Build Your War Chest." It's available right now to Retirement Millionaire subscribers.
If you're not already a subscriber, you can click here to find out more.
Markets go wild from time to time, but they are also very good at distilling the state of the world into a few numbers. When the VIX isn't rising, it doesn't mean there's no fear in the market... It's just showing up in different places.
If you keep a clear mind about the state of the world, you'll know where to look for wealth-building opportunities.
Are you living a millionaire lifestyle? Our free daily letter is your guidebook:
What We're Reading...
Here's to our health, wealth, and a great retirement,
Dr. David Eifrig and the Retirement Millionaire Daily Research Team
July 19, 2017