It's a free-for-all in the oil market...
The Organization of Petroleum Exporting Countries (OPEC) oil cartel has effectively abandoned its formal production target... sending the price of oil plunging to less than $40 a barrel.
That's the lowest price in more than six years. And it's not at all "business as usual."
OPEC nations usually agree to reduce their production when oil prices get too low. That limits supply and drives the price back up. The OPEC countries then earn higher profits on their only valuable export.
So without an agreement, the cartel is essentially broken. Poorer member countries like Nigeria and Venezuela are desperate... warning of a catastrophe if OPEC doesn't cut output.
A catastrophe for them, anyway. The wealthier and lower-cost oil producers, like Iran and Saudi Arabia, have more room before they hit a crisis.
By keeping the glut going and prices low, OPEC is trying to bankrupt non-OPEC oil producers – like U.S. shale-oil companies – that have a higher cost of production. Many borrowed tons of money to run their businesses.
So OPEC is holding out, hoping those companies go bust. According to law firm Haynes and Boone's latest Oil Patch Bankruptcy Monitor, more than three dozen North American oil exploration and production companies have filed for bankruptcy in 2015.
Oil prices are as low as they've been since the recession. They've taken a major hit in the past year and a half... The West Texas Intermediate Crude Oil (the domestic benchmark) price is down 62% since June 2014.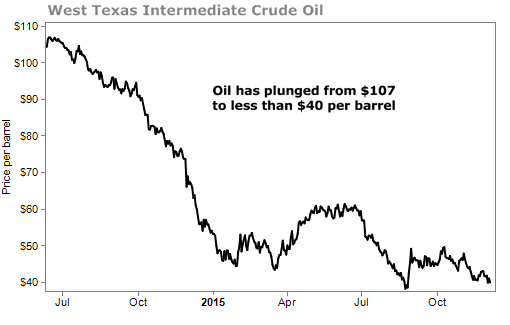 The problem is, this drop in oil prices isn't so easily fixable by OPEC...
First, technology has caused a major increase in U.S. oil and natural gas production. The twin inventions of hydraulic fracturing (or "fracking") and horizontal drilling nearly doubled output in the U.S., from about 5 million barrels per day (bpd) in 2008 to the current 9.3 million bpd.
At the same time, the growth in consumption of oil slowed. People became more interested in energy conservation. We also had a major recession in the U.S., and struggling economies in Europe. Growth in China has slowed, too.
So demand decreased, while supply increased.
Energy is an "input" into every good and service in the economy. It is the most important commodity in global markets. Oil prices influence the cost of nearly everything – whether it's running a factory, keeping your lights on at home, or shipping finished products.
For investors, U.S. oil companies, and OPEC members, the oil crash has been one of the worst in history. But for consumers, lower oil prices have been a windfall... Estimates show that for every penny gasoline prices fall, it adds $1 billion a year to the pockets of consumers.
And people are buying things with that cash.
[optin_form id="73"]
Thanksgiving marked the start of the holiday shopping season. Early estimates from software and marketing company Adobe, which tracks digital sales, put Cyber Monday sales at $2.98 billion, up 12% from last year. A competing estimate from IBM Watson Trend puts the rise at 17.8%.
Between Thanksgiving Day and the following Monday, shoppers spent $15 billion online, up 15%. Each day between today and December 18 should bring in $1 billion.
That's feeding the economy. It has driven the unemployment rate to 5%, its lowest level since April 2008. Now that more folks have jobs, they'll do more buying as well.
Of course, this money has to come from somewhere. Will the losses that U.S. oil companies suffer create a drag on the economy?
Despite the importance of energy prices... the energy sector itself is not a huge part of our economy. Capital spending on oil and gas exploration (the area where producers will cut spending to save money) only accounts for 1% of GDP.
Some companies may go bankrupt, and that will hurt the banks that lend to them. Russia, Venezuela, and other high-cost or highly indebted producers may see problems. But in the U.S., the benefits for the economy are outweighing the costs.
Here's the simplest way to figure out if low oil prices will be good or bad for the economy... Are you happy that oil prices are lower?
Unless you're an oil worker, the answer is likely yes. And that's a good thing, because you are the economy.
What We're Reading...
December 7, 2015