Nothing is forever.

Consider Kodak, the company in Rochester, New York.

Kodak was the Apple of its day. As the prime inventor of camera film, the company was on the constant edge of innovation. As late as the 1970s, it sold 90% of the film and 85% of the cameras in the U.S. But the end came fast for Kodak...

In 1995, digital cameras hit the consumer market... and almost immediately undermined Kodak's analog camera and film business. Ironically, the company had developed a digital camera as early as 1975, but didn't pursue it, realizing the threat it represented to its own film business.

By the time it got its digital business rolling, it was too late.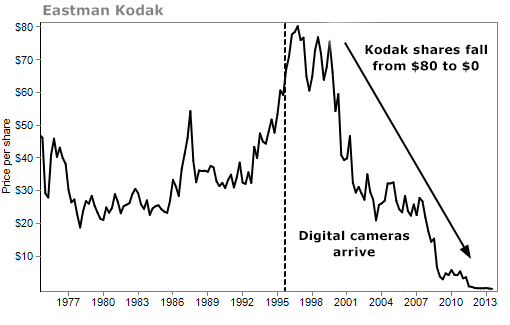 Porter Stansberry, my good friend and Stansberry Research founder, has written frequently that – from the first time he held a digital camera – he knew Kodak was doomed. He successfully shorted the stock for his subscribers.

Unfortunately, not everyone saw it that way... As late as 2005, many Americans still had faith in the iconic brand. Investors held $10 billion worth of Kodak in their trading accounts and retirement portfolios. In 2012, the company finally filed for bankruptcy. Lots of shareholders ended up with nothing.

This has happened with several other well-known companies. In their heydays, General Electric, Chrsyler, and General Motors also looked like "forever" stocks.

Today, GE is well below its peak market capitalization. (Market capitalization is just the number of shares outstanding multiplied by the share price.)

We all know how the government had to rescue a failing GM several years ago.

As life-long investors, I think about finding high-quality, stable businesses that you can hold "forever." But as Kodak and others show... nothing is really forever. Even the strongest companies see their runs end eventually.

That's why I've loved Porter's analytic work for so long.

Over the past decade, he's predicted the bankruptcies of:
General Motors

Fannie Mae

Freddie Mac

General Growth Properties
He warned his readers of the dangers long before anyone else.

It wasn't easy for Porter... His predictions were controversial and – at the time – unbelievable for most investors.

Once Porter's predications came to pass, he earned national acclaim for his insight. He doesn't hold back... Porter gives readers his honest financial recommendations.

The point is, Porter has a remarkable track record when it comes to this type of work. He's truly one of the brightest analysts I've met.

His monthly investment newsletter –
Stansberry's Investment Advisory
– is an essential tool for any investor, especially those planning their retirements. In each monthly issue, Porter gives political and economic commentary you won't get anywhere else.

I read it monthly and it's opened my eyes to a variety of great ideas. It should be required reading for every investor.

In fact, it's hard to imagine anyone being a serious investor if they're not reading
Stansberry's Investment Advisory
. At just $199 a year, this is what I call a no brainer.

And now he's used his skills to develop a new strategy.

Last month, Porter unveiled this new investment strategy to his subscribers. He calls it the "Magic Stock" strategy. It's a simple, yet powerful tool that leads you to some of the most high-quality and safe stocks.

It's so powerful that during testing, Porter discovered this strategy beat the S&P 500's returns by 750 basis points per year. That's 7.5% more! When you can double the average return of the S&P with a simple idea, I listen.

Porter and his team explain it in a way no one else can.

If you're not already reading
Stansberry's Investment Advisory
, I urge you to start today. And it's a 100% risk-free 30-day look! Click here to
learn more
.