The warning signs of a market crash are starting to pop up...
Consider the "advance-decline line."
I've written about this indicator before... It's simple, but it's powerful in predicting where stocks will head.
All you do is take the number of stocks that went up in a given day and subtract the number that went down. If more went up that day, the advance-decline line goes up. If more went down, the line goes down. Again, simple.
In a typical bull market, as the market goes up, the advance-decline line goes up, too.
Today, we're at a crossroads...
The market has been moving down and the advance-decline line has started to fall as well. That means more stocks are losing than winning. And that's different than what we've experienced over the past few years.
Take a look...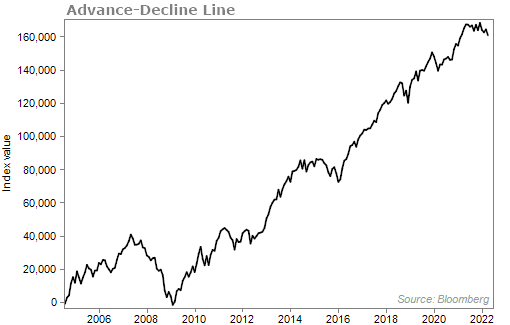 Many bears will point to this as a sign that we've already hit the top in stocks. For me, I'd like to see this downward shift in the advance-decline line continue before I make that proclamation.
As you can see, there were many bumps in the advance-decline line while stocks were in a bull market. Let's see if it continues to fall over the next month.
There's also the inversion of the yield curve which is giving investors a reason to pause.
The yield curve is the difference between long-term interest rates and short-term interest rates. It's also a powerful indicator for stocks...
Every recession in the past 60 years was preceded by an inverted yield curve. And the 10-year minus two-year yield curve inverted earlier this month...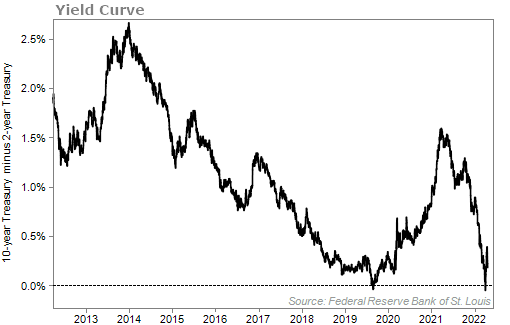 While the curve is positive again, many economists are calling for a recession to strike. After all, inflation is raging. And you will see the effects of inflation on many companies in the coming days and weeks as earnings come out.
Many companies that have already reported earnings have talked about how inflation has hampered their businesses.
Consider consumer-goods giant Procter & Gamble (PG). Management recently warned that higher expenses will take a big bite out of profits. Procter & Gamble now expects $3.2 billion in extra costs this fiscal year tied to commodities, freight, and foreign exchange. That's $400 million more than its prior guidance.
We'd guess that just about every management team will mention something about "higher costs."
But inflation and the inversion of the yield curve doesn't mean trouble is immediate. In fact, once the yield curve inverts, the economy doesn't automatically enter a recession. It can happen in as little as six months or up to two years.
And as we know, stocks don't typically crash unless there's a recession.
As for my personal feelings, I've been flip-flopping about whether or not a recession will hit the U.S. soon.
One flight I take is full, the next flight I take is half empty. One restaurant around my area closes, and another one has a wait list for over a month.
It has been tough to find a definitive answer using real-world experiences.
Still, the odds of a recession over the next 12 months are low.
The consensus estimate of economists puts the probability of recession within one year at 25%. But while the risk is rising, 25% still means we've got a 75% chance of sailing through clearly.
If you're playing the odds, it tells you that stocks are not going to experience anything worse than a 10% to 15% correction. That's where we are today.
And I get that it's scary to buy stocks today. There are many indicators saying not to. But that's what the best investors do... They use fear to their advantage.
That's what I love to do as well...
You see, since my time on the trading desk at Goldman Sachs, I have developed a strategy that thrives when investors are afraid. This strategy, which we use in my trading service, Retirement Trader, harnesses all of the fear and anxiety swirling around and uses it to help us make more money.
Today, there's a real opportunity to make more money than just about any point in my time at Stansberry Research. Folks who cast aside their fears and give this strategy a chance can keep steadily increasing their wealth amid all the chaos... by taking advantage of the chaos.
And the thing is... even when all these fears subside, you'll still be able to use this strategy to collect hundreds – or even thousands – of dollars in instant income each month.
That's why it's critical to start learning this strategy today.
The offer to get a discounted price to join Retirement Trader ends tonight. Find out how to get started right here.
What We're Reading...
Here's to our health, wealth, and a great retirement,
Dr. David Eifrig and the Health & Wealth Bulletin Research Team
April 26, 2022