You probably have an opinion on electric cars...
Electric vehicles ("EVs") are highly politicized these days. Either they're necessary to prevent environmental catastrophe... or they're junk that the government wants to jam down everyone's throat.
I (Brady Holt) am not going to delve into a science or policy debate. You read Health & Wealth Bulletin for your pocketbook, not for politics. And my specialty is driving different cars to figure out their strengths and weaknesses. I've tested 18 different EVs over the past year alone – ranging from budget-priced hatchbacks to full-size pickup trucks to six-figure luxury cars.
Today, I'm going to separate EVs from the policy debate. There are legitimate reasons to consider an EV regardless of your thoughts on government-sponsored green initiatives... And there are legitimate reasons they might not work for you even if you love the idea. Let's get to it...
For many people, an electric car is synonymous with a Tesla or one of its fellow luxury models... a fast, flashy toy for the rich. It's an understandable conception. Nearly two-thirds of all EVs sold in the U.S. last year were Teslas. (The remainder of the market is fragmented among tiny EV startups like Rivian Automotive and Lucid, along with the electric models made by various established carmakers.)
It doesn't help that even low-cost EVs used to be pretty expensive. Barely a decade ago, models like the Nissan Leaf and Ford Focus Electric sold for more than $35,000... roughly twice what you'd have paid for a similarly sized economy car with a gasoline engine.
Put it all together, and you might be thinking you can't afford an electric car, even if you want one. But some EVs' prices have come down significantly... at the same time gas-powered cars are getting more expensive.
Consider the Nissan Leaf... In 2012, this electric hatchback had a starting price of $35,200, while the similarly sized Nissan Sentra sedan cost $16,430. You'd have to really love an EV to pay that premium.
But now, the 2023 Nissan Leaf starts at $28,040, while the cheapest Sentra costs $20,050. When you factor in tax incentives, the two Nissans are virtually the same price. And the Leaf costs a lot less to run. (I'll go more into the dollars and cents of EVs, including ever-changing government incentives, on Thursday.)
I'd also rather drive a Leaf than a Sentra. Electric motors are nearly silent and provide their maximum performance ("peak torque") right off the line, in contrast to a gasoline car that has to loudly rev up to speed. (Some gasoline engines sound melodic to car buffs, but not the Sentra's.) Plus, electric cars have low centers of gravity because of their heavy batteries, and that improves a car's handling.
Here's a picture of the Nissan Leaf I tested last year...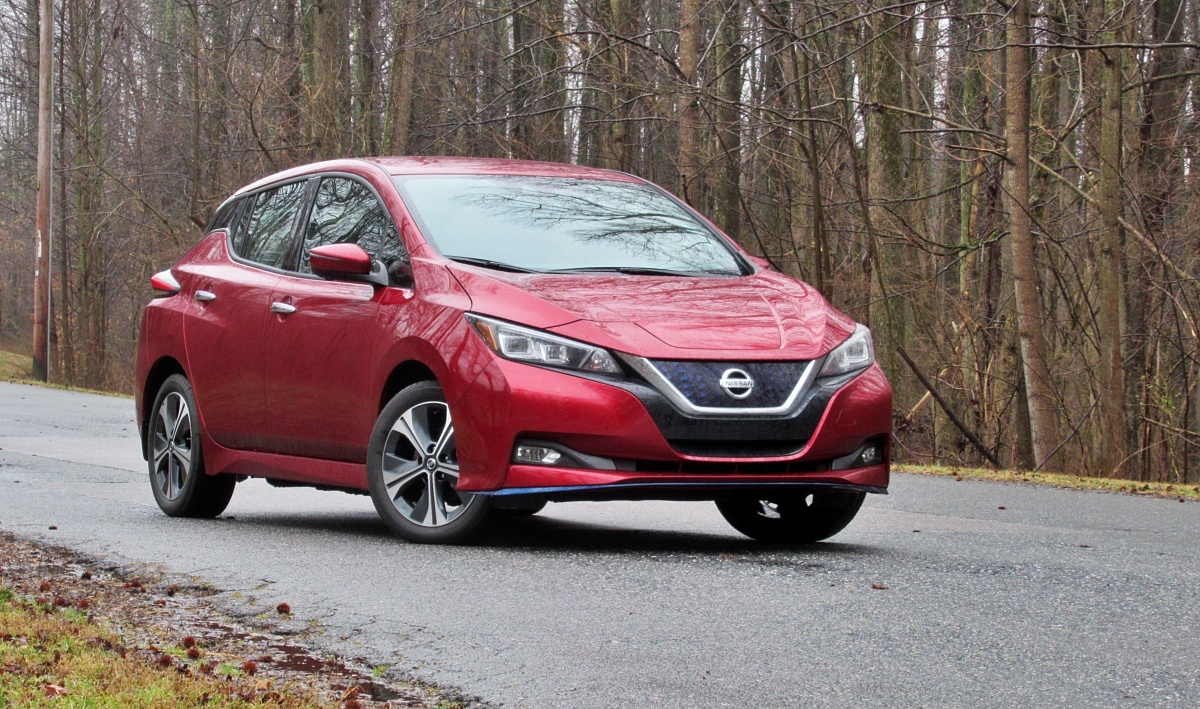 In addition to the Leaf, the top budget-focused electric cars are the Chevrolet Bolt EV hatchback and its quasi-SUV variant, the Bolt EUV. These sub-$30,000 EVs disprove the idea that you must be rich to go electric.
Of course, most EVs aren't relatively inexpensive little cars. But remember, neither are most vehicles sold in the U.S. these days. And when you're planning to get something fast and fancy anyway, EVs again have a lot to offer.
Ample low-end torque and a low center of gravity make for great performance machines. Most high-end EVs are scary fast... Many Teslas can leave Porsches and Ferraris in the dust, with the Tesla Model S sedan flying to 60 mph from a dead stop in as little as two seconds.
Yet it's not just about going fast, since near-silent motors also keep an EV's ride serene. And in a luxury car like a Mercedes-Benz EQE, Lucid Air, or BMW i4, it makes sense to pay extra for that speed and silence... whether that means upgrading from a four-cylinder engine to a V6, or to an electric motor.
With their blend of speed and efficiency, it's clear why so many folks are excited about EVs... especially in the cases where you don't have to pay a lot extra to get one.
But electric cars also have serious drawbacks that make them impractical for many Americans. The biggest factors are range and charging.
Based on estimates from the Environmental Protection Agency ("EPA"), a 2023 Nissan Sentra can travel 409 miles on a tank of gasoline. And you can stop at any gas station to collect another 409 miles of range within five minutes. The 2023 Nissan Leaf can travel 149 miles on a charge (or 212 miles if you pay extra for a larger battery), and even the fastest charging stations take 40 to 60 minutes to juice it back up.
And that's if you can find that fast-charging station... They're harder to come by than even a less-powerful 240-volt car charger (to say nothing of a ubiquitous gas station). A 240-volt charger would need at least seven and a half hours to fill up a Leaf's battery.
This issue isn't exclusive to affordable EVs like the Leaf. Even the longest-range EV – the $155,650 Grand Touring version of the Lucid Air luxury sedan – goes 516 miles on a full charge. That's 2 miles less than a $25,290 Nissan Altima with a full tank of gas.
To make matters worse, unlike gas cars, EVs are their least efficient on an open highway. So in the conditions where you're most likely to go a few hundred miles at a time, they're the most likely to miss their EPA range estimates. Cold weather also cuts into EVs' range.
On the other hand, here's a bit of perspective... The average American has a round-trip commute of 41 miles. That's well within the range of any EV sold in the U.S., with plenty of charge to spare for unplanned errands or cold weather. And while long trips are inconvenient in an EV, you can leave home fully charged every day and never need to stop anywhere else to refuel after work.
Now, this assumes you can charge at home... A 2019 report on plug-in vehicles found that just 11% of owners charged exclusively at public stations. That's understandable, because public charging is less convenient and more expensive than charging at home. If you don't own your own home with a driveway, or at least have an assigned parking space within reach of a car charger, an EV would be a challenge.
While electric cars have advantages for everyday driving, they may not work well for folks who can't charge them up at home or take them on long trips.
But if you're still interested in an EV, keep an eye on your inbox...
On Thursday, I'll be back to crunch the numbers on EV purchases and ownership, including fuel costs, maintenance and repair expenses, and a review of federal tax incentives. I'll also discuss another type of plug-in car that might be the perfect, often-overlooked middle ground for you.
Keep your car questions and comments coming to [email protected]. We read every e-mail.
What We're Reading...
Here's to our health, wealth, and a great retirement,
Brady Holt with Dr. David Eifrig
March 28, 2023