I'll be honest... the bitcoin rally we saw in late 2017 was fueled by speculators. I haven't been shy about calling it what it was – a bubble.
I've shared this chart many times before, but the bitcoin bubble made the tech bubble back in the early 2000's look like a blip on the radar...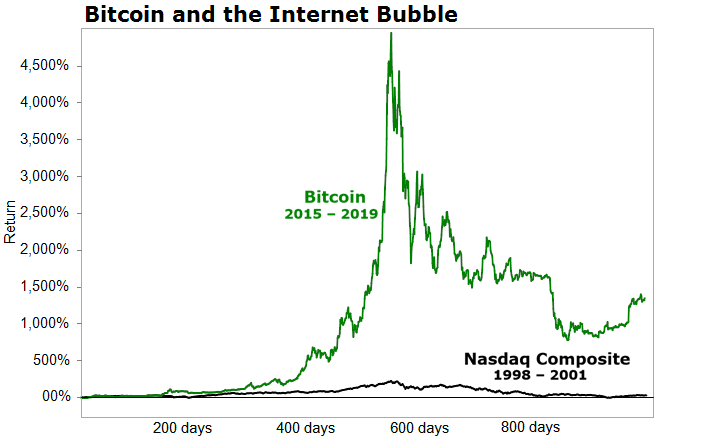 Bitcoin hit a peak over $19,000 in 2017. Then it crashed down to $3,200. And currently, the cryptocurrency is once again trading for more than $19,000.
Is this a repeat of 2017?
The short answer is that, unlike 2017, there are a few possible reasons other than speculation for this recent price increase.
The first is that people are becoming more distrustful of the government. With all the debate surrounding the election and with all the recent money-printing, something like bitcoin – which isn't controlled by the government – may seem attractive. Many think that bitcoin can offer protection against government manipulation.
The rally could also be fueled by the simple fact that more people are accepting bitcoin as a legitimate investment. In a survey by media platform The Tokenist, nearly half of respondents trusted bitcoin ahead of banking institutions... up from 29% three years ago. While this figure still reflects the sort of folks who'd visit a crypto-news website, it does highlight an intriguing trend.
More well-known companies are also starting to accept bitcoin. Giants like Microsoft accepts it in its online Xbox store, so does online seller Overstock, home-improvement store Home Depot, and coffee retailer Starbucks.
But another reason for the rally could be because of a company that I mentioned in last Friday's issue... PayPal.
As you likely know, PayPal is a company that helps drive the "cashless revolution." It has more than 360 million active electronic-payment accounts and processed $247 billion in payment transactions. The company has done so well that its stock has gone up by 130% since 2019.
And in late October, PayPal shook the crypto world. It announced that those hundreds of millions of customers would be able to buy, hold, and sell bitcoin and other digital assets using their PayPal accounts.
As a result, volume for bitcoin has skyrocketed. Crypto investment firm Pantera Capital recently said that PayPal bought up almost 70% of all newly created bitcoin since it began offering cryptocurrency services.
You can see in the chart below how volume for bitcoin through PayPal has skyrocketed. And it is projected to only move higher in the months to come...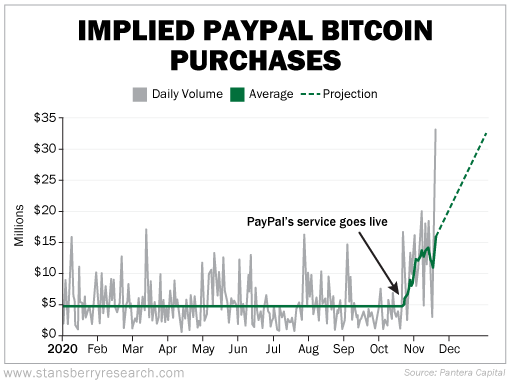 Plus, PayPal isn't the only company driving demand. Square's Cash App, a mobile payment service similar to Venmo, also allows its customers to buy, hold, and sell bitcoin as well.
Together, PayPal and Cash App have recently bought all new minted bitcoin.
With such a huge increase in demand, it only makes sense that bitcoin's price has risen. If you remember from your economics classes, if demand continues to exceed supply, prices have to increase.
The great news for bitcoin investors is that more money will likely continue to flow into the cryptocurrency. For one, PayPal is not just making it easier for individuals to have access to cryptocurrencies... From PayPal CEO Dan Schulman...
One of the things that we allowed is not just making it easy to buy, sell and hold cryptocurrencies, but very importantly, early next year, we're going to allow cryptocurrencies to be a funding source for any transaction happening on all 28 million of our merchants. And that will significantly bolster the utility of cryptocurrencies.
Schulman also believes that this is just the beginning...
It's a matter of not if but when and how we'll start to see more and more central banks issue forms of digital currencies. I think you'll have more and more utility happen with cryptocurrency.
The point here is that unlike in 2017, bitcoin is possibly being fueled by factors other than pure speculation. Now does that mean bitcoin is going to continue to go up in a straight line for the next year? Of course not.
Bitcoin has historically been volatile. And trust me, it's going to continue to be volatile.
Something that goes up 80% in just a couple months, like bitcoin has, is going to go through many ups and downs. Given the volatility and unpredictability, investing in crypto's is not for everyone. It's as famous for its colossal busts as its millionaire-making booms.
But for those who are willing to accept more risk, it can be a highly profitable investment. Just ask our very own crypto expert, Eric Wade.
Eric has been on a roll this year... Subscribers who followed his advice could've made 1,169% and 597% on cryptos called Band Protocol and Chainlink, as well as booking triple-digit gains with at least seven different partial positions in various cryptos.
If you're willing to speculate on crypto's, you'll need an expert helping you along the way. And I strongly recommended Eric... He believes there are still tremendous opportunities to make a lot of money.
He's so bullish that he recently was a part of a presentation along with Porter Stansberry where they dove into what's really happening in the crypto world today.
What We're Reading...
Here's to our health, wealth, and a great retirement,
Dr. David Eifrig and the Health & Wealth Bulletin Research Team
November 25, 2020
P.S. Our offices are closed for the Thanksgiving two-day holiday this Thursday and Friday. Expect your next Health & Wealth Bulletin issue on Monday, November 30. From all of us at Health & Wealth Bulletin, we wish you and your family a happy and safe Thanksgiving!