This has been the market's worst start to the year ever.
I know a lot of people are worried about their portfolio. Almost every stock in the S&P 500 is down. At yesterday's close, just 27 stocks in the S&P 500 were in the green.
And plenty of folks are wondering how they can still safely collect the income they need this year.
It's impossible to know whether this is the beginning of a bear market or just a temporary selloff before this bull market climbs even higher. So right now, it's essential that you position your portfolio to do well in any type of market.
That's why I spent two hours last night with thousands of listeners explaining in detail the strategies I use in my Retirement Trader newsletter.
[optin_form id="288"]
I believe these strategies will help our subscribers earn safe, consistent income in any market environment.
In a bull market, like we enjoyed from 2009-2014, we use a strategy that will help people collect safe income and still earn capital gains.
In a sideways market, like the seesaw ups and downs through 2015, we show subscribers how to continue to make money... even if almost nobody else is seeing any income or gains.
And in a falling market, like we've experienced so far this year, we show subscribers how to collect income AND protect their hard-earned gains.
The strategy we're using involves selling put and call options.
Right now, markets are volatile and investors are scared. But it's a great time for my investors selling puts and calls.
Longtime Retirement Trader subscribers know I look at the volatility in options using the Volatility Index (the "VIX") because it acts like a fear indicator. High volatility often points to fear in the market, while low volatility can mean that the market is growing more confident.
Right now, volatility is higher than it has been since September...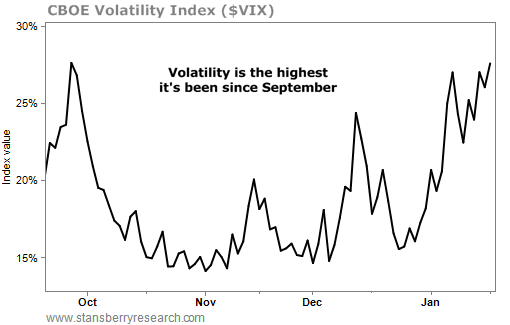 The movement of the VIX reflects the prices people are willing to pay for options that protect the value of their stock holdings. The more that people will pay to protect their stocks by purchasing options, the higher the VIX moves.
Generally, when the VIX goes up, it means stockholders think the price of their stock will drop. So option sellers get paid money to essentially act as the "insurance company" by selling options.
That's why we love volatility. And it's just one of the topics I covered last night.
During the live broadcast, I shared...
My two favorite ways to trade options
How you can use the "probability cone" to earn safe income in 2016
The three keys for picking the perfect stock
Two ways you can make money when stocks go down
I hope you were able to join the live training session last night. But if not, you can still learn everything – and more – as a Retirement Trader subscriber.
If you're not already a Retirement Trader subscriber, I've got a special deal for you that includes lifetime access to Retirement Trader and Retirement Millionaire, and a free year of my income-focused letter, Income Intelligence.
Click here to learn more.
What We're Reading...