I get gold.
It feels good to have some gold coins hidden away in your basement safe. It's a thrill to hold something so valuable in your hand.
And I understand its appeal as the oldest form of money... It has more of an intrinsic value than paper dollars.
It can also offer safety...
For example, gold prices have spiked higher following the Brexit vote... the U.K. referendum on leaving the European Union... and the collapse of the British pound.
That said, gold typically makes up only a small percentage of my portfolio.
But there is one specific time when it makes sense to own a bigger-than-usual position in gold. It's these times when gold outperforms massively...
In my investing experience, the best time to own gold has been when real returns on fixed-income securities turned negative.
When I say "real returns," I mean what you can actually earn in interest after removing inflation. If you can earn 4% in a Treasury bond and inflation is running at 1%, then the real interest rate is 3%.
Of course, you can't earn that anymore. Today, you earn negative 0.1%. It costs you money to hold money.
Since holding money comes at a cost, gold looks a lot more attractive. We've looked at this since gold was free to float in price, and using 10-year rates on Treasury notes versus inflation, you can see how negative rates matched up with rises in the price of gold until recently...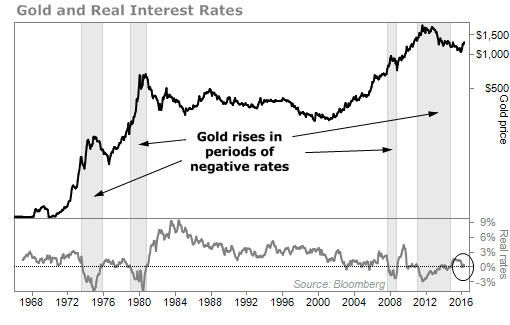 That makes now a good time to be holding gold, especially if you think real rates are turning back to negative (from either low rates, higher inflation, or both).
Ultimately, gold is the quintessential "chaos hedge."
Gold outperforms many other asset classes during times of great economic and political stress. That's why I think every investor should own some gold.
Right now, gold is still trading below its highs... But it may not be for long.
If you don't already own a portfolio allocation to gold, now is the time to do so.
And if you're interested in "boosting" your exposure to gold and gold-mining companies... and outperforming the price of gold by six-to-one... Porter Stansberry has a special offer for his Stansberry Gold Investor service until midnight tonight.
The price of an ounce of gold is up nearly $100 since he launched the service... or about 7%... And the intrinsic value of many of the precious metal companies that he has recommended has also increased substantially.
So far, his 15 individual recommended stocks – again, made less than three months ago – are up an average of 43%. Every single position is up double-digits... with no losers.
For anyone who didn't have a chance to join in when Porter launched this service, Porter is issuing a one-time alert... detailing the positions to open now... pinpointing where the best value in gold and silver companies is right now... and clarifying why the gains that subscribers have experienced so far are only the beginning.
If gold continues its recent move higher – and it has already made one of its biggest-ever moves in the first half of 2016 – any gold investor will do well.
But Porter and his team have identified and put together an entire gold portfolio that they believe can hand investors gains that are much larger than average.
As I mentioned, his recommended companies are already outperforming the price of gold by about six-to-one... average gains of 43% vs. a 7% increase in gold. If the gold surge continues, these are the companies that you want to own.
If you already own a position in precious metals, bullion, or mining companies... or are considering it... I highly recommend taking the time to read Porter's special update.
Click here to learn more. (This does not lead to a long promotional video.)