Editor's note: We've talked about how lower gas prices benefit the economy. But with crude oil prices continuing to fall, people are wondering "how low can they go?"
One of the most insightful analyses on the subject that I've read recently was a DailyWealth essay from Stansberry Research analyst Brett Eversole. Brett explains why investors are optimistic about rising oil prices... but that the "dumb money" is indicating they could keep falling further.
***
Oil prices HAVE to go higher... Or do they?
Crude oil is already down 17% this year. It broke into the $20 range last month. And the total fall since July 2014 is 72%.
You (and nearly everyone else) probably expect much higher oil prices after a crash like we've seen. But that's the problem...
Everyone expects oil prices to rise from here. I'm not saying the crowd can't be right. But when everyone believes something, the opposite tends to happen. And that means lower oil prices are entirely possible...
What's most incredible about the fall in oil is that investors are still optimistic today. Like I said above, nearly everyone expects higher prices right now.
In fact, speculative bets on higher oil prices through exchange-traded funds (ETFs) have soared.
The chart below shows the shares outstanding for the largest three oil ETFs – the United States Oil Fund (USO), the iPath S&P GSCI Crude Oil Total Return Fund (OIL), and the PowerShares DB Oil Fund (DBO). These funds create and liquidate shares based on demand. So a rising share count shows investors are betting on higher oil prices.
Bullish bets soared in recent months as oil broke down to new lows. Take a look...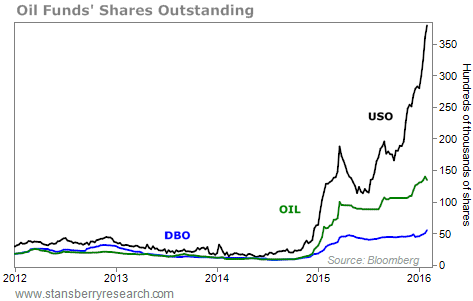 Combined, the three funds contain more than $4 billion in assets. That's real money betting on higher prices.
If we look at a larger market – the futures market – we again see that investors aren't at a negative sentiment extreme for oil. The chart below shows the Commitment of Traders ("COT") report for oil.
The COT report is a weekly report that shows the real-money bets of futures traders. It often acts as a contrarian indicator... When most futures traders bet against an asset, the asset is poised to bounce.
Today, the COT report shows futures traders are getting negative on oil. But they aren't at an extreme today. Take a look...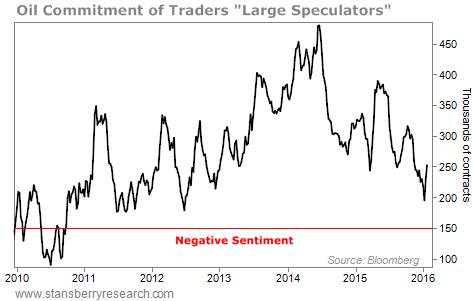 The chart shows "large speculators" in the oil market. They are considered the "dumb money" and are often wrong when they agree.
Obviously, bets have fallen dramatically from the mid-2014 extreme, which kicked off oil's dramatic fall. However, sentiment can still fall much farther before hitting a negative extreme.
Of course, none of this means an oil rally isn't possible. But right now, ETF investors are wildly bullish on oil. And futures traders aren't at a negative sentiment extreme.
The consensus on oil is that prices HAVE to go higher. I don't buy it. Sentiment is too positive. And that means the oil decline will likely continue.
Good investing,
Brett Eversole
Let us help you live a healthier, wealthier life. Sign up today!