I love it when someone calls me boring...
I've been fortunate enough to experience many things in my life. I worked at some of the biggest banks on Wall Street, became a board-eligible eye surgeon, made my own wine, and got my pilot's license. I now spend my time traveling the world and sharing advice about investing and living well to my readers. This is my current passion.
Yet, some folks still call me boring. More specifically, they call my income-focused newsletter boring.
I don't get it. I want to give my readers the advice I'd want to receive if I was planning to retire or currently in my retirement. That's why my goal with my Income Intelligence newsletter is to generate the highest income return possible... with minimal risk.
There's something special about getting income checks each month or quarter. And remember, consistent and safe income is key to any successful retirement.
That's especially true in today's market... where it's near impossible to predict what's going to happen to stocks... where bitcoin is taking up space on front-page headlines and where folks seem to have forgotten that you should be concerned with return of capital when the market hits crazy valuations.
For example, take a look at how much of the S&P 500 Index's return over the years has been from dividends...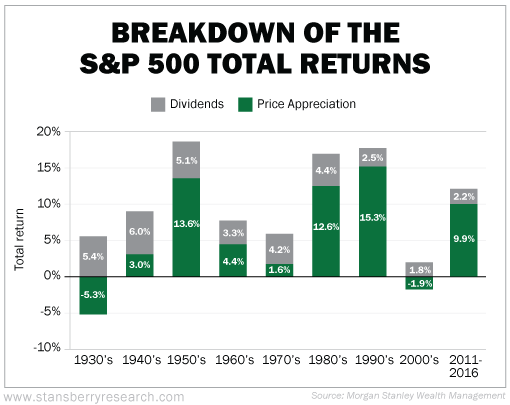 For more than 90 years, dividends were responsible for more than 40% of the total market return. Imagine the bone-headed investor who based his entire portfolio on stocks that can only generate a return if their prices go up.
That's a lot of money left on the table.
[optin_form id="73"]
Plus, dividend-paying stocks are a defensive tool. As you can see in the chart above, in decades where major financial crises occur like the 1930s and 2000s, dividends could have kept your portfolio afloat.
And dividend-paying stocks aren't the only way to collect income...
There are all different types of income producing assets. In Income Intelligence, we track almost all of them. Below is an indicator we publish in our monthly issue. It shows whether an asset class is a buy, hold, or sell based on current market conditions...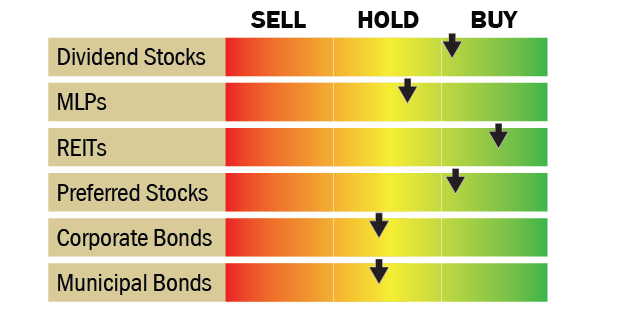 The indicator flashes a buy signal when assets have uncommonly high yields and upward momentum, which is an extremely rare combination.
Last month, it told us that real estate investment trusts (REITs) were a strong buy.
All the fundamental drivers for REITs suggested they should be going up. Jobs have been growing and unemployment is down. Wages are rising. Household formation is rising. Rents are rising. Home prices are rising. It's all there... But REITs weren't moving.
It was the perfect opportunity to buy.
In our last issue, we recommended buying a REIT that manages and develops apartments in the most expensive West Coast cities in the U.S. Our subscribers now get a quarterly cash payment from the rental income that these apartments make.
I'm extremely proud of my Income Intelligence portfolio. We see little volatility in our positions. And our average yield across all positions is more than double what you'd get by buying a S&P 500 index fund. We profit from the dividends we collect and from price appreciation.
To be clear, if you want a "get rich quick" strategy, this isn't for you. I recommend the lottery instead.
This strategy is perfect for investors who want a market-beating, consistent stream of cash payments... As long as you don't mind being boring, of course.
For those who are interested, I have a discounted offer for you to join Income Intelligence. Normally we charge $1,500 for a subscription... But if you become a member today, you'll pay a fraction of that.
I tell my staff all the time that we're in the business of selling trust. We won't stay in business for long if we don't provide real value. That's why I want to give investment advice I'd want to receive... the kind I give my own parents and siblings.
Income Intelligence provides that advice.
So again... here's my offer: I'd like you to begin collecting income to fuel your retirement by becoming an Income Intelligence subscriber today. In our portfolio, we have 23 open positions. That means when you become a member, you can immediately buy our recommendations that will start generating income for you. And, of course, you'll get new recommendations every month.
To get started, click here.
Here's to our health, wealth, and a great retirement,
Dr. David Eifrig and the Retirement Millionaire Daily Research Team
Baltimore, Maryland
December 13, 2017