I'll admit, I break my own investing rules from time to time...
As investors, we've all heard the saying "cut your losers early and let your winners run." The best minds in investing follow this mantra. I've certainly preached it over the years.
It's tough to admit but sometimes you just get a stock wrong. You buy a company for one reason or another and it turns out those reasons never push the stock higher.
That's why it's vital to have some sort of a stop-loss policy. For me, I tend to use a 25% hard stop.
And you can never have lifechanging gains – I'm talking about hundreds-of-percent gains – if you sell too early.
If you want to be a successful investor, all you have to do is cut your losers early and let your winners run...
Well, most of the time. Sometimes you have to do the exact opposite.
I'll give you an example...
In my Retirement Trader option-selling service, we recommended making a trade on Disney (DIS) back in December. Our timing couldn't have been worse...
Over the next few months, Disney fell 30%. We were in a deep hole. (Our paper loss on the trade was much less than 30% because of the options premium we took in.)
We didn't cut this loser early though. We actually doubled down on Disney and recommended another trade.
Most finance professors would be shaking their heads right now... Doubling down on a losing trade is usually a no-no in the investing world.
But Disney was such an incredible value, it was an opportunity too good to pass up. Put simply, Disney is not like other companies.
Disney has perhaps the most valuable intellectual property ("IP") in the world. Think about characters like Mickey Mouse, Captain America, Darth Vader, and Buzz Lightyear... Think about brands like ESPN.
Disney has so many valuable assets that it has seemingly endless opportunities to generate sales.
For example, Disney builds theme parks around its iconic characters. It makes movies and TV shows about them as well. It broadcasts sports games. And it can also sell Iron Man or Star Wars merchandise.
There's so much to Disney's business. Other companies can't compete with its timeless brands. That affords Disney a huge moat. Again, it all starts with its valuable IP.
This moat has allowed shares to return 13.7% a year over the past four decades. Take a look...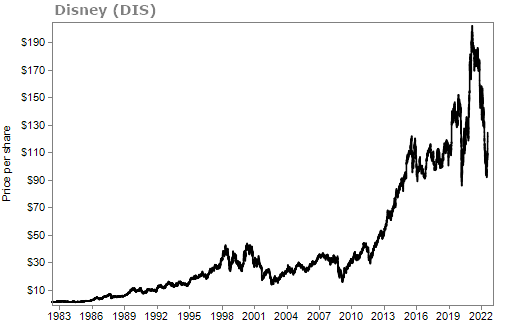 One of the main reasons Disney fell throughout the first half of this year is because of its streaming business, Disney+. The entire streaming sector was pummeled because of fears of slowing growth.
Competition among streaming services has been heating up. Plus, people have been choosing to go outside and go on adventures rather than watch TV and movies as COVID-19 fears faded.
Once again, though, Disney+ is not like other streaming services. People are willing to pay to watch Disney original shows over other streamers like Peacock and Paramount+.
Also, my analyst just returned from a trip to Disney World with his family. He said the parks were packed and there were no signs of any slowdown.
We doubled down on Disney in late May and Disney is up around 20% since then. Of course, we're still down from our December trade... but it won't be long before Disney moves even higher.
First, Disney+ has been a shining star for the company. It recently reported 152 million subscribers. Projections are that it could hit 230 million by 2024.
Disney spent a lot of money and resources on its streaming service... It's paying off. And it's going to be a big part of the company's future.
Second, Disney was cheap. It traded near a decade-low when we decided to double down. In our mind, buying the dip on Disney is always a good move...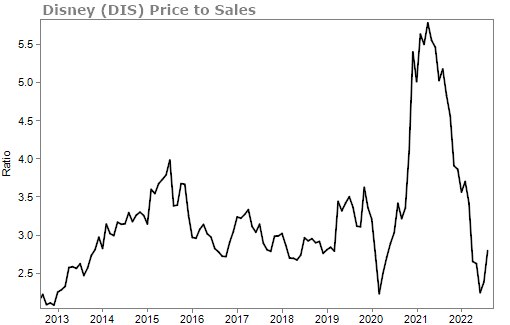 We're not the only ones who saw value in Disney, either...
Hedge fund Third Point, led by billionaire activist investor Daniel Loeb, recently bought a $1 billion stake in Disney. Loeb is calling for some changes to Disney and it may eventually unlock even more value to the company. (Though we're likely to see more back and forth between Disney and Loeb.)
There are times when you should cut losers short... and there are times when you should buy even more stock.
It's tough to know when which is right. More often than not, you'll want to follow the rule of using a stop loss.
For us, we doubled down because there are only so many chances to buy a company like Disney on the cheap. For investors buying today, we think it's a great price for a stock you can own your entire life.
What We're Reading...
Here's to our health, wealth, and a great retirement,
Dr. David Eifrig and the Health & Wealth Bulletin Research Team
August 17, 2022