You know the government is shut down. And you know this is (at least one thing) roiling the stock market. The question on everyone's mind, of course, is what should you do about it?
It's now been 18 days with certain federal functions furloughed. It's now tied as the second-longest shutdown in history. The longest lasted 21 days back in 1995 to 1996.
And there's no end in sight. In the economics of negotiation, we've reached the stage known as "brinksmanship" – and it's never good for progress.
While it's disconcerting to watch our national parks fill with human waste for lack of sanitation funds, we want to think about the economic consequences.
Shutdowns don't help the stock market. Back in 2013, the government shut down for 16 days in October. At the time, we noted in Retirement Millionaire that earnings for S&P 500 companies had taken a hit, but the index still increased. Take a look: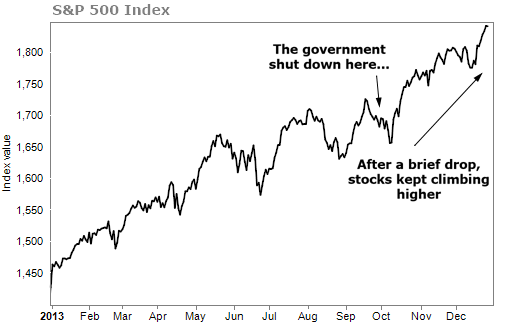 The same drop is happening today. From the beginning of December 2018 to the end, the Dow dropped about a 9.6% drop. There's no denying it hurts. But that's still within the range for a typical market correction.
Of course, today's market has to contend with other worries, such as a trade war, rising corporate debt, and higher valuations.
There's a wider effect, too. But for those employed in the furloughed branches, it means unpaid bills, unemployment insurance, and the fear of not receiving back pay.
Our headquarters are in Baltimore, and the Maryland and Virginia area typically benefits from a large number of federal jobs. About 147,000 Maryland residents are federal employees, and around 250,000 work for government contractors.
That's normally a positive for our local economy, but not during a shutdown.
One engineer we spoke with at a contracting company (who asked to stay anonymous) mentioned talks of paycheck reductions. If your contract freezes due to the shutdown, you must use your own paid time off and then face a cut in pay.
He's not alone... In an interview with NPR, an IT specialist who contracts with the U.S. Department of Agriculture says this happens during every shutdown. Contractors must take their own vacation days and then go without pay. Unlike federal workers, they don't receive back pay. Lower paychecks (or no paychecks at all) means consumer spending will fall. And the longer the shutdown, the worse the impact.
From an investor's perspective, we have virtually no worries about the shutdown. Here's why...
The government will open back up again.
That's a certainty. And it's not often in the investing world that you can predict something with complete confidence like that. We don't know exactly when, but the government will start paying employees again.
So if the shutdown is driving down stock markets, you should look at this as an opportunity to buy stocks on sale. Stocks are cheaper thanks to an obviously temporary panic.
Now, that's not much comfort to the employees struggling through unpaid weeks. But when things return to normal, it makes for a good time to review your savings. As tough as a shutdown is for some folks, it's a good reminder to shore up your emergency fund – particularly if you're a government employee or a contractor.
Everyone should have at least enough to cover three to six months' worth of expenses saved in an emergency fund. Savings accounts or money market accounts work best so you have quick access to your money. If you don't have an emergency fund yet, make it a resolution to start one this year.
We like to remain cautious, but optimistic. We know the shutdown will end. We know there's a precedent to reimburse federal workers with back pay. In fact, we hope that by the time this issue goes to press, we'll have an end in sight.
At the same time, the shutdown isn't the only thing pushing stock markets down today, so we still want to be cautious in our investing, as we've warned, particularly over the last few months.
What We're Reading...
Here's to our health, wealth, and a great retirement,
Dr. David Eifrig and the Health & Wealth Bulletin Research Team
January 9, 2019