If you've been with Health & Wealth Bulletin for long, you'll know travel is near and dear to my heart.
In a typical year, I log at least 150,000 miles flying. I usually am on a few different flights each week.
My team always jokes that it's difficult when someone asks where I live because I'm always on the move. I spend as much time in the sky as I can.
In my younger days, I was even a pilot. I've never worked the stick on a jumbo jet or anything like that, but I've flown single-engine prop planes all around the Midwest and Northeast. I'm no longer "current," but I still get the itch to get back in the cockpit.
But obviously, COVID-19 has slowed me down. I've made it out of upstate New York a few times to California, Minnesota, and Baltimore... but I'm not flying as much as I used to.
If you're like most Americans, you probably haven't been flying as much either. And if you have taken a flight recently, you've likely noticed that airports feel like ghost towns.
It's been a tough time to be an airline operator, that's for sure. And today, I want to talk about airline stocks. Because over the past few months, I've been asked time and time again if I would consider investing in them.
We talked a few weeks ago about making smart speculation trades. And buying some of the big airline stocks today would certainly be a speculation. But whether it's a smart speculation... that's up for debate.
Take a look at how some of the major airline stocks are still down big over the past 12 months...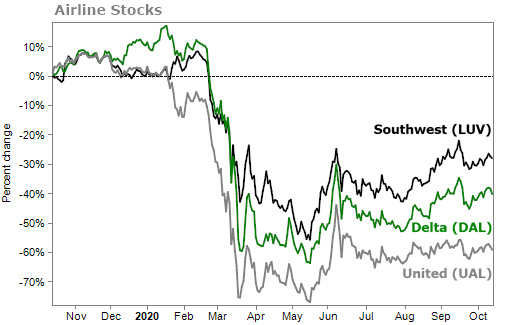 It's easy to see why some investors would consider buying them today. They're dirt cheap.
Southwest Airlines (LUV) trades for 1.2 times sales, and Delta Air Lines (DAL) trades for 0.8 times sales. United Airlines (UAL) trades for the incredibly cheap price of just 0.28 times sales. Meanwhile, the average company in the S&P 500 Index trades for about 2.6 times sales.
Like I said, dirt cheap.
If you're risk tolerant and can afford to be very patient, maybe it's a good speculation.
If you buy a stock like UAL today and all it does is get back to where it was before COVID-19, you're sitting on a 160% gain.
Congress is getting closer to agreeing on a new stimulus deal, and part of that would aid the airlines. House Speaker Nancy Pelosi recently said that support for the airlines was "imminent."
Still even with new relief, it's hard to see airline stocks as a solid investment. It could take years for them to recover...
The chart below shows how folks have recently become more comfortable getting into their cars and traveling that way. It's looking like a "V" shaped recovery. But there has been barely any recovery in airlines travel. Flights are still mostly empty.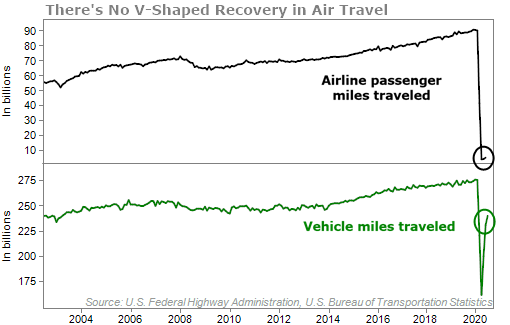 Delta just announced its quarterly earnings yesterday and the results were not good. It reported a massive $5.4 billion net loss and sales plunged over 75% from a year ago. Delta's president warned revenues may not normalize for "two years or more."
The truth is that it's going to be a long road toward a recovery for air travel. A vaccine would certainly help. But it won't solve the industry's problems. Only time can do that.
So if you were debating about whether or not to gamble on the airline stocks, my advice would be to hit the blackjack table instead. Your chances of winning may be higher.
I'd stay away from them for now.
And if you do have some dry powder you're looking to put to work, I strongly urge you to listen to subscriber Rob.
Rob was able to retire at the age of 52 because of this one market secret. If things do take a turn for the worse with the coronavirus and with the market, you'll want to use this strategy to make a small fortune. And no, it's nothing like gambling on airline stocks.
You can click here to watch Rob's presentation. (Also, the research that Rob used to book massive winners is half off – for a few days only.)
What We're Reading...
Here's to our health, wealth, and a great retirement,
Dr. David Eifrig and the Health & Wealth Bulletin Research Team
October 14, 2020