Don't make investing harder than it needs to be...
That's a principle I live by. And it's a principle I think you should follow as well.
Too often I hear "investing experts" touting the next great tech stock or the next energy company that will revolutionize the world... all while making you a fortune in the process.
If you scroll through various financial media outlets, it turns out you'll hear these claims quite often. They're a dime a dozen.
While a few may turn out to be profitable ideas, in my experience, many of them will just waste your time and money.
It's exciting to chase the next big thing, but it's more profitable over the long term to invest in businesses you can understand... ones that have strong brands, robust cash flow, and put shareholders first.
Don't overcomplicate things. After all, your money and well-being are on the line.
On January 15, I wrote an essay discussing my No. 1 stock pick for 2020.
The company I was bullish on was a leader in cloud computing – more specifically in infrastructure-as-a-service ("IaaS"). Here's how I described IaaS back in January...
Prior to the cloud, when a big business needed computing power it had to build a cluster of computers called "servers". Those servers would store and serve up databases or websites.

With the cloud, the business doesn't need to do that itself. It can simply rent the computing power from a data center on demand and host its services there.

If you need an example of IaaS, think of Amazon Web Services or AWS. Amazon really invented the modern IaaS "public" cloud.
IaaS is already a massive business but there is plenty of growth ahead of it. Put simply, IaaS is a space you need to be investing in.
And my No. 1 stock pick was not some small IaaS company with little profits but high growth... It was Windows giant Microsoft (MSFT).
Everyone knows Microsoft. It's one of the biggest companies in the world and one of the most analyzed. So you would think that with so many eyeballs on the company that all available information would already be priced into the stock.
But Microsoft's opportunity with its IaaS business is massive. Its cloud business has gone from zero in sales in 2010 to over $50 billion. And there's more room to run.
My thinking was if I had to put all my eggs in one basket for 2020, it would be in Microsoft.
Now, many folks might think I'm being boring or too conservative choosing Microsoft as my No. 1 stock for the year...
And I get it. Buying Microsoft doesn't impress your buddies.
But a 33% return since January is far from boring...
Investors who bought Microsoft back in early January would be up 33.5% today including dividends. That more than doubles the return of the S&P 500 Index, which is "only" up 14.3%. Microsoft also more than doubled the return of small-cap stocks, a group of stocks that many speculative investors can't resist.
Plus, Microsoft was less volatile than the broader market over that stretch...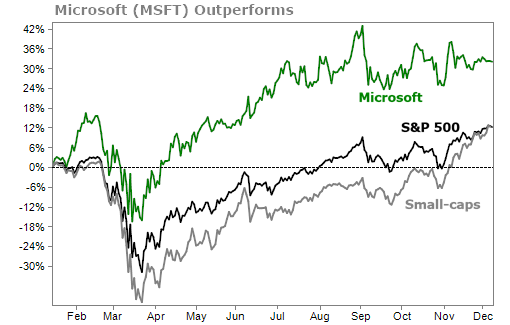 I'll say it again... Don't make investing harder than it ought to be.
Not everything you buy has to impress your friends at your next cocktail party. Sometimes the best investments are the ones that are the most obvious.
Stick with companies with long, successful track records, plenty of free cash, and economic moats.
As for Microsoft, I'm still bullish heading into 2021. The growth in its cloud business is not over yet. As Amy Hood, executive vice president and chief financial officer of Microsoft, recently said...
Demand for our cloud offerings drove a strong start to the fiscal year with our commercial cloud revenue generating $15.2 billion, up 31% year over year. We continue to invest against the significant opportunity ahead of us to drive long-term growth.
If you don't own a full position in Microsoft, today is a good opportunity to get in.
I'm a fundamentalist when it comes to investing. That means when I decide to buy a stock, I analyze everything from the industry the company is in, to a deep dive into the company's balance sheet.
But there are also traders who prefer to let a stock's price action guide them – something known as technical analysis. Greg Diamond is our in-house technical expert.
He has used technical analysis as a head trader for a $65 billion pension fund... all by the age of 28.
Lately, Greg has been watching the price action on Microsoft closely. As he recently told his Ten Stock Trader subscribers...
When considering the time factors and how the market trades, early this week I want to focus on one stock that I've highlighted a lot of late – Microsoft (MSFT). We've looked at Apple (AAPL) too and the reasons are these stocks are leaders... And what I mean by that is their price action can give us a warning or heads up as to the strength or weakness of not just those stocks but the market overall.
If you're a Microsoft investor or trader, Greg believes you need to pay attention to what its price does into the end of December (focusing on if Microsoft can stay above a price of $205 or breakout above $230)...
Most importantly, he thinks you need to focus on what Microsoft does the week of December 23.
And that's because Greg is predicting that December 23 will be a huge turning point in the market.
To learn about Greg's predication and how it can impact your portfolios, click here.
What We're Reading...
Here's to our health, wealth, and a great retirement,
Dr. David Eifrig and the Health & Wealth Bulletin Research Team
December 9, 2020