If you want to beat the market, it's simple...
Back in November 2019, I gave readers the key to making good investments... I wrote an essay called "Doc's Formula for Buying Winning Stocks." Basically, I gave away the secret sauce that my team and I use to look for investment ideas.
Over my decadeslong investing career, I've learned that if you buy and hold businesses that meet five specific requirements, you'll make a lot of money over time. And you'll experience less volatility along the way.
As a reminder, here are the five things you want to see in an investment...
Consistent top-line growth – A company that has multiple years of consecutive revenue growth.
Does more with less – A company that has a return on assets ("ROA") of at least 10%. (The formula for ROA is net income divided by total assets. The higher that number, the better a company's management team is at using its assets to generate income.)
Increases dividends every year – A company with at least 10 or more consecutive years of dividend growth. (This would make a company a "Dividend Achiever.")
Avoids too much debt – A company that has a net debt-to-earnings before interest, taxes, depreciation, and amortization ("EBITDA") of less than 4.
Trades for a reasonable price – A company that has a price-to-earnings multiple of less than 25.
In August 2021, I ran this magic formula again and showed readers 12 stocks that fit my requirements. Specifically, I said, "If you have some free cash lying around, this list is a good place to start."
Of course, the key to any investing formula is time. So today, let's check in on that list of stocks and see if the formula is holding up.
In short, we're doing much better than the market...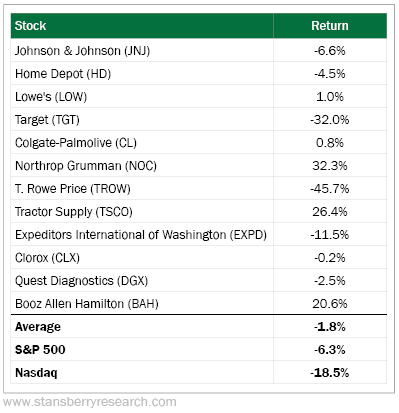 While the market has fallen 6.3% since August 2021, the average stock from my list is only down 1.8%. That's a pretty significant difference in the investment world. And we're absolutely crushing the tech-heavy Nasdaq, which is down nearly 19%.
We also promised less volatility... The average "beta" of these stocks is just 0.8.
In stock market parlance, beta measures the correlation of an individual stock to the market as a whole. A beta of 1.0 means the stock's price moves directly one-for-one with the market: If the market is up 5%, the stock is up 5%.
A beta of more than 1.0 means the stock's price is more volatile than the market (magnifying its rises and falls). And a beta of less than 1.0 means the stock's price is less volatile than the market.
Of course, losing 1.8% of your cash isn't anything to brag to your buddies about – even if it is much better than the market.
The key with this magic formula is time. These stocks are capital compounders... This means that every year, your dividend payment will get a little bigger, and the business will continue to improve and grow.
As a result, we expect this type of outperformance to only grow over time.
We'll be sure to check back in with the magic formula a few months from now. And stay tuned because we may run the formula again soon and give even more free stock picks.
What We're Reading...
Here's to our health, wealth, and a great retirement,
Dr. David Eifrig and the Health & Wealth Bulletin Research Team
April 5, 2023