During this bear market and raging inflation, consumers aren't happy...
In June, consumer sentiment fell to its lowest level in 45 years. Because consumers are so pessimistic, the market has yet to sustain a significant rally.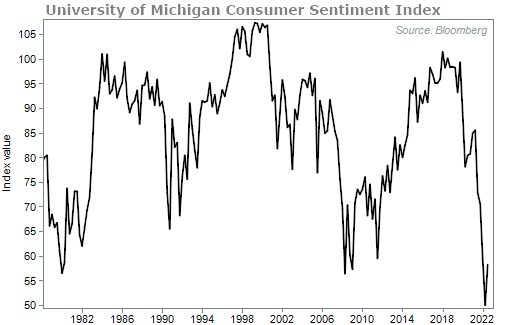 There is good news, though... Low consumer sentiment is associated with higher market returns over the next 12 months.
When consumers are showing extreme confidence (when the index peaks), the market returns 4.1% on average over the following 12 months. When consumers are showing extreme pessimism (when the index is at a trough), that average return surges to 24.9%.
We're clearly closer to a trough than a peak today. And history tells us that markets should do well over the next year.
If you're wondering what to do with your portfolio right now, circle Thursday, September 22 on your calendar.
That night, at 8 p.m. Eastern time, two investing legends are joining forces to offer a financial lifeline that could essentially erase the past eight months of heartache, losses, and fear...
And it could even trigger a wave of potential wealth that is so powerful, you could see phenomenal gains.
It's 100% free to attend, but a reservation is required.
Click here to reserve your spot.
Now, here are some of the things on your minds this week... Keep sending your comments, questions, and topic suggestions to [email protected]. We read every e-mail.
Q: I have an existing 401(k) at my former employer. I will have to take the money out of the 401(k) in January 2023 because I have left the employment of this employer. I have an existing IRA which I have been contributing to. Can I move the money from the 401(k) to my existing IRA when I receive it and keep it growing? Thank you! – T.J.
A: There are typically three main options for your 401(k) when you change jobs...
First, you could leave the 401(k) with your former employer. That's easier... The downside is that you wouldn't be able to contribute more money to it.
If you're moving to a new employer, you can move it to your new employer's 401(k) plan. That opens up your other two options: You can roll your 401(k) into either a traditional IRA or a Roth IRA. Rolling a traditional 401(k) into a traditional IRA means you won't owe any taxes. But if you're rolling a traditional 401(k) into a Roth IRA, you will owe some tax.
Once you've decided that you want to move your 401(k) into an IRA, the easiest way to move the money is through a direct rollover. This is when the financial institution that currently has your 401(k) transfers the fund directly into your IRA.
If you can't do a direct rollover, you'll have to go the indirect route. This is a little more complicated... Your 401(k) plan administrator will cut you a check, and you'll have 60 days to deposit the funds into your IRA to avoid penalties. But your former employer is required to withhold 20% of the total account value (which you'll get back later as a tax credit after the rollover is done). So you'll have to come up with that 20% as you have to deposit 100% of your 401(k) into your IRA to avoid any taxes or fees... again, all within 60 days.
So if your circumstances allow it, don't put yourself through all that trouble – go the direct rollover route.
Q: Is honey good or bad for us? – W.T.
A: The answer depends on the type of honey...
Regular readers know I like to use honey as a sugar substitute in things like tea or yogurt. But a study from the Journal of Nutrition analyzed folks who consumed honey, white sugar, and high-fructose corn syrup and found no difference in their blood sugar, insulin, and cholesterol levels, or their chemical markers of inflammation and changes in body weight.
There was one problem with this study, though: The researchers didn't use raw honey. Instead, they used commercially available honey – the stuff sold at your local supermarket. This stuff is pasteurized, overprocessed, and not natural. In fact, it may even contain high-fructose corn syrup.
But don't let this one study deter you from using honey in small quantities for your sweet tooth. Do what I do and shop for raw, unprocessed honey to get all of the antioxidants and blood-sugar-regulating benefits. If you can, look for local producers. That way, you know you're getting real honey (and you also know where it comes from).
What We're Reading...
Here's to our health, wealth, and a great retirement,
Dr. David Eifrig and the Health & Wealth Bulletin Research Team
September 16, 2022