I figured out the trick to income investing early on.
Combining multiple income streams and using them to fund the next investment is critical to income investors and to generating wealth.
I've used this trick to secure steady streams of income-generating investments that allow me to pursue interests like investing in wine shops and restaurants.
One of the keys to cultivating income streams is smart asset allocation.
Most people know about traditional stocks and bonds. But there are several options to build out a great income portfolio. Today, I want to focus on one that has gotten the attention of my team at Income Intelligence lately: real estate investment trusts ("REITs").
REITs invest in real estate and pass the rental income on to shareholders.
But REITs are not the same as a company that manages real estate. They have a unique corporate structure designed to more closely simulate a direct investment in real estate. To qualify as a REIT, a company has to fulfill several requirements. For our purposes, two are the most important...
The company must derive 95% of its income from dividends, interest, and property income.
The company must pay at least 90% of its income to shareholders as dividends.
In exchange for meeting these requirements, the company doesn't have to pay corporate taxes on most of its earnings.
In this sense, buying shares of a REIT entitles you to virtually the same income as buying the properties and hiring a property manager... except you get to avoid the headache of operating a property.
To understand REITs, you have to think like a landlord... How are rental rates trending? What's the vacancy rate? Are property prices rising?
REITs come in all shapes and sizes: residential, retail spaces, office spaces, industrial, and campus housing, for instance. They also exist in assets that you might not consider real estate at first glance, like mortgage REITs, which hold a portfolio of mortgage-backed securities. As the borrowers who took out these loans pay down their debt, the payments pass through the REIT back to the shareholders. As you can see, REITs offer a lot of opportunities for investors to turn assets into income.
REITs, as an asset class, can move for three broad reasons. They can rise because all assets are rising – as in a bull market. Rising real estate values can push them up.
But likely more than any other factor, REITs trade based on yield.
When REITs offer good relative yields (or a big spread) to other income assets, investors will eventually step in and buy them.
Today, REITs offer rich yields. Compare the 3.9% on the MSCI US REIT Index with the 0.66% on 10-year U.S. Treasurys or the 3.3% on a BAA-rated investment bond... You're earning a good rate in REITs.
Historically, those spreads are off the charts – ranking higher than 92% and 96% of their monthly values over the last 15 years.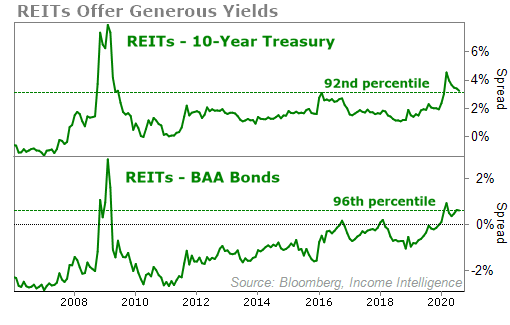 REITs pay so much today because many of them are risky. Not all investors want to buy an apartment REIT with unemployment at 13%, a retail REIT with record numbers of stores closing, or an office REIT while entering a new era of working from home.
And REITs use leverage to buy properties. If rent checks stop flowing, they may not survive. (Yet others may do just fine, in which case now is exactly when you want to be buying.)
That's why in Income Intelligence we've focused on non-traditional REITs that still trade cheaply... but carry less risk in our estimation.
This month, we recommended one of these non-traditional REITs in a sector that's booming right now – even during the pandemic. The 94-year-old company has a great history of withstanding rising inflation rates, too, making it a solid pick not just for income, but for portfolio protection as well.
You won't want to miss this unique opportunity to invest in a solid, profitable, and growing asset class. Click here to learn more.
What We're Reading...
Here's to our health, wealth, and a great retirement,
Dr. David Eifrig and the Health & Wealth Bulletin Research Team
September 1, 2020