In case you haven't noticed, there's been a bidding war all throughout the country...
If you don't offer enough or if your offer is even a day late, you'll be left with nothing. You'll sometimes be forced to offer hundreds of thousands of dollars above the sellers asking price... and that still might not be enough.
In 2020, the real estate market was red-hot. And it still is so far this year.
Every neighborhood I drive down, houses are for sale one day and the next, there's a sold sign sitting on the front lawn.
Home prices just keep going up...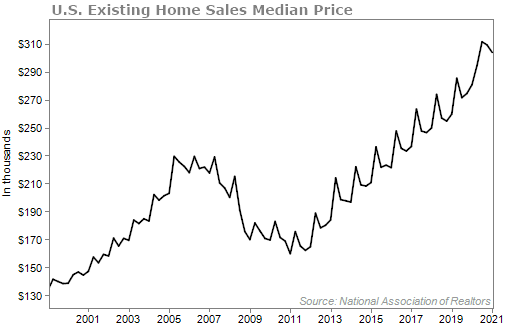 You might get the feeling that we're close to bubble territory, like we were in 2006...
According to real estate company Zillow, through September 2020, just under 50% of homes in Rochester, New York have sold for more than their asking price. About 45% of homes in Spokane, Washington have sold above their listing price, 44% in Milwaukee, Wisconsin, and 41% in Columbus, Ohio.
In total, more than 20% of homes in the U.S. have sold above their initial asking price. There's no doubt this is a very competitive housing market.
That's why it's reasonable to compare today to 2006. But as I'll explain, today's real estate market is healthy and is not like 2006.
First, it's important to talk about what's driving this demand in housing.
The pandemic has played a big role. As I wrote in December, there's been a mass exodus out of big cities like San Francisco and New York. Folks don't want to pay a small fortune to rent out tiny apartments when they are working from home.
They want space. They want land. And that leads them to want to buy houses.
The only problem is that there aren't that many homes for sale. Homebuilders are trying to keep up with demand but demand is still greater than supply.
The chart below looks at the number of months it would take to exhaust the existing-home supply at the current sales pace. It's currently at an all-time low...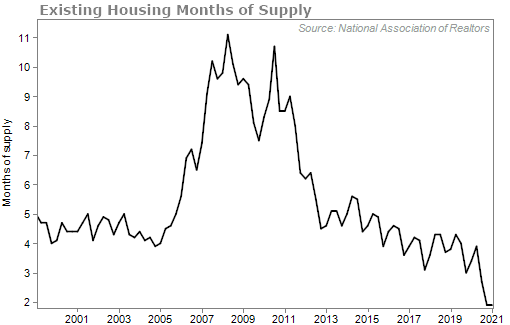 The people who are homeowners just aren't selling. The percentage of U.S. homeowners who have lived in their homes for more than 20 years has increased dramatically since 2005...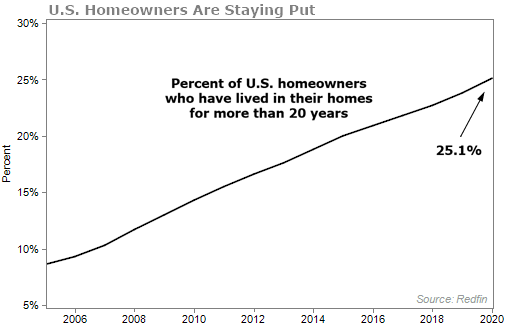 This leads a lot of interested homebuyers to turn to new construction. The only problem is that the supply of land to build new homes is also at a low...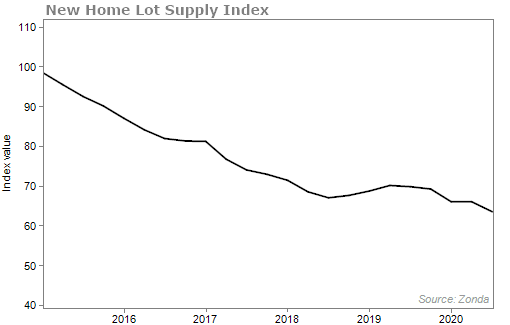 This is a big problem for millennials who are ready to buy homes for the first time. Millennials, now aged 25 to 40, are in their prime home-buying years and recently made up over half of new mortgage loans.
In order to get a house, they've had to pay up. And I don't see home prices cooling anytime soon given the low supply of homes for sale.
Besides, folks have money to spend. Soon, millions of Americans will get $1,400 checks from Uncle Sam – if they haven't already. (It was reported that direct payments could be deposited as early as today.)
There's been over $4 trillion in government stimulus since the COVID-19 outbreak last year. The government didn't just make us whole, they made us rich.
U.S. personal income has shot up to $21.4 trillion – an all-time high...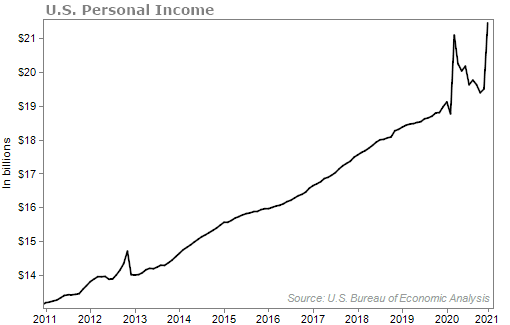 People are saving more, and that means they have more cash to put down on a new home.
I also wanted to talk a little more about why I don't think today is similar to 2006.
In 2006, anyone could get a new home. You didn't need a high credit score or any assets. You just needed to sign your name on a piece of paper, put little-to-no money down... and, boom, you had your dream house.
Today's market is not like that. Buyers actually have high credit ratings. They are putting more cash down as down payments. And to compete, some offers come in as all-cash.
The chart below looks at mortgage originations by credit score. As you can see, a good chunk of the mortgage originations in 2003 and 2004 came from folks with a credit score of 660 to 759. Today, the vast majority of mortgage originations come from buyers with great credit scores – scores of 760 or higher...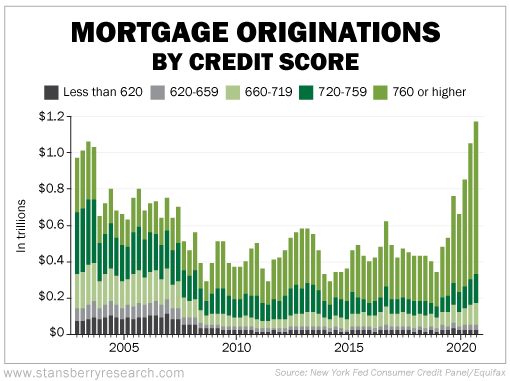 Even though mortgage rates have increased over the past few weeks, they are still historically low at 3%. Between low mortgage rates, low supply of homes, and plenty of millennials who are flush with cash... real estate should keep heading higher.
But real estate isn't the only red-hot market...
Stocks have soared over the past year, but my colleague Dr. Steve Sjuggerud is warning that the Melt Down will happen this year.
In a recent interview, Steve details why he's seeing signs of an approaching Melt Down, the No.1 thing he recommends you do today to keep making great gains, and how to hold on to those gains when the Melt Down arrives.
What We're Reading...
• This map shows the U.S cities where more than 40% of homes are selling above asking price.
• 12 Oregon homes sold for $200,000 over asking price or more in 2020.
• Something different: Primordial lightning strikes may have helped life emerge on Earth.
Here's to our health, wealth, and a great retirement,
Dr. David Eifrig and the Health & Wealth Bulletin Research Team
March 17, 2021