Nissan came prepared for everything...
The automaker was among a dozen that attended this month's Washington Automotive Press Association ("WAPA") Rally, an event for D.C.-area car reviewers to try out the latest models.
It brought along two of its vehicles to dazzle the group of journalists. One was the Ariya, a swanky all-electric SUV whose sticker price reached nearly $60,000 when loaded up with premium options. The other was the Versa, a gasoline-powered subcompact sedan that starts at just $16,130 and tops out just above $20,000.
So whether you're more interested in something fancy and cutting-edge or something simple and affordable, Nissan had something you'd want to hear about at the WAPA Rally.
To attend this event, I (Brady Holt) took the day off from my normal job of fixing Doc's commas and deleting his most egregious puns. During six hours of driving time, I managed to slip behind the wheel of 14 of the roughly three dozen cars, SUVs, and pickups at the event... including gasoline, hybrid, and electric models.
Here's a picture of some of the cars waiting for us to climb aboard...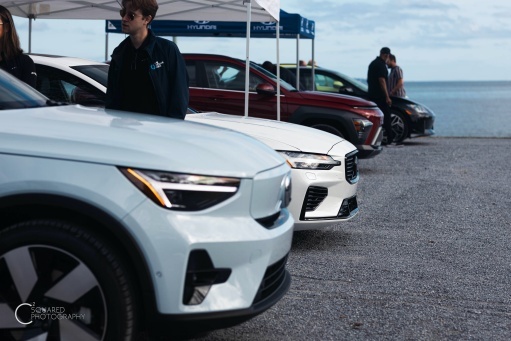 Photo by Chris Chin, C Squared Photography
 
Today – based on the cars I drove at the rally, those that I've tested elsewhere in recent months, and those that I'm eager to try out – I'll give you an update on the current automotive marketplace.
Specifically, I'm going to call your attention to some models that you're less likely to know about or might have the wrong impression of...
First off, there's a sense that all cars are expensive today. Nissan disproved that by bringing the Versa to the WAPA Rally. It's exactly the sort of car that grumbling Facebook comments say doesn't exist: It's cheap and economical, yet a much nicer car than its closest rival... the crude, slow, and loud Mitsubishi Mirage.
The Nissan Versa has modern safety and infotainment systems, it's easy to drive, and it can squeeze in four adults and a couple of suitcases. And it has simple, easy-to-use controls.
Bigger, more expensive cars certainly have their advantages... They likely have more room, quieter rides, quicker acceleration, more amenities, and fancier interiors.
But as I've written before about separating your discretionary spending from your necessities, a Versa may be all that you really need. Here's a photo of the one I tested: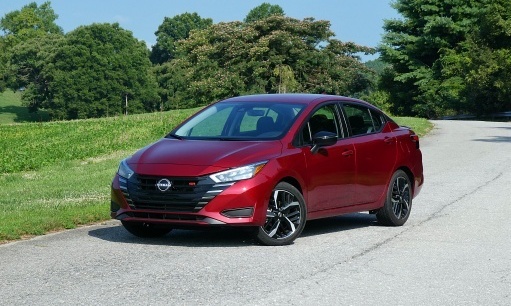 The Versa wasn't the only affordable car at the WAPA Rally... When you still want to economize but don't want to settle for only the cheapest cars, some other new models are also notable.
I'll start by highlighting one that everyone has heard of, but which has become almost unrecognizable. It's the Toyota Prius, which is newly redesigned this year.
The new Prius is as economical as ever (up to 57 mpg in government testing), yet it's otherwise a radical departure from the slow, goofy-looking transportation pod everyone has come to know. It's now styled like a sports coupe and has nearly 200 horsepower.
I'm an even bigger fan of the Toyota Prius Prime. This version of the Prius is a plug-in hybrid... This means you can charge it up to run only on electricity, and a gasoline engine is also available to keep you going if you run out of juice.
The Prius Prime used to travel just 25 miles per charge. The new model nearly doubles that, traveling up to 45 miles at a time without needing gasoline. That's enough to make the Prius Prime an electric car for many folks' daily commutes and an economical hybrid on longer trips.
Have a look at the Prius Prime I drove: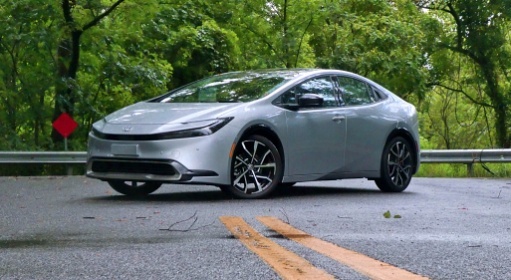 The main downside to the new Prius lineup is that it's less roomy inside than before. The Prius hybrid starts at $27,450, while the Prius Prime starts at $32,350.
I've also been eager to drive an affordable pair of small crossover SUVs: the redesigned Chevrolet Trax ($20,400) and its slightly fancier cousin, the new Buick Envista ($22,400).
Because General Motors no longer sells small sedans in the U.S., these tall hatchbacks are GM's alternative. Like a Nissan Versa, the Trax and Envista don't have big engines or opulent interiors. But they're useful and affordable without being overtly junky or sad.
I also regularly recommend some established competitors to the new GMs that also provide SUV-like functionality at economy-car prices. My favorite is the Kia Soul. But I always get excited about promising new cars that don't cost a fortune.
You might disagree... Fortunately, there are great cars that aren't so small and basic.
I'll start off with the new Mazda CX-90. This is a crossover SUV with three rows of seats that is replacing the old CX-9.
Mazda has been working to move itself upscale, and the CX-90 continues the company's quiet progress. With gorgeous interior trimmings, a powerful yet fuel-efficient six-cylinder engine, and unexpectedly sporty handling, it's a more sophisticated piece of engineering than an Infiniti QX60 or Cadillac XT6 – for much less money.
Its starting price of $39,595 is in line with humble family haulers like the Toyota Highlander and Honda Pilot. Mazda put style, performance, and luxury over maximum legroom and the most cupholders. But it means this top-tier vehicle is available at middle-tier prices.
Here's the CX-90 I tested: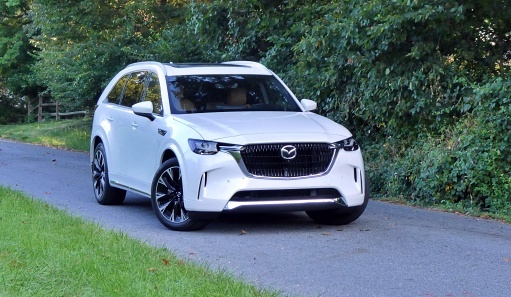 Many of the most-hyped new premium cars are electric vehicles ("EVs"). At the WAPA Rally alone, there were nine... the Hyundai Ioniq 6, Nissan Ariya, Volvo C40, Mercedes-Benz EQE, Lexus RZ, Genesis Electrified GV70, and three different Audi Q8 e-trons. (Audi didn't want anybody missing their chance to drive its updated flagship EV SUV.)
As I've written about before, EVs don't work for everyone, but they also cost much less to operate and maintain than gasoline cars.
I know that some Health & Wealth Bulletin readers hate EVs. Some of you mistrust the government for encouraging them... Some of you have argued that battery production is more environmentally harmful than carbon emissions... And some of you have said they're too expensive.
The EVs I drove at the WAPA Rally certainly offer no argument to the final point. Sure, each one is great to drive, with speedy and near-silent acceleration, a smooth ride, a richly finished interior, and simpler controls than certain aggressively futuristic electric cars. Their ranges and charging speeds continue to improve, too. But each car there (counting optional equipment) cost at least around $60,000, and some topped $90,000.
But there's now a surprising counter to the final argument. It's Tesla, a poster child of the high-priced EV.
The company has a history of shifting its prices wildly and often, but they've gotten surprisingly affordable as I write. A Tesla Model 3 sedan now starts at just $38,990, while the Model Y SUV is priced from $43,990. That's much less than any of the EVs I drove at the WAPA Rally... or nearly any other on the market.
As I've written about before, EVs don't work for everyone, but they also cost much less to operate and maintain than gasoline cars. If you were writing them off as too expensive, Tesla is prepared to argue the point – at least for now.
I haven't given you a complete picture of the automotive marketplace. Hundreds of different models are on sale in the U.S. today. But I hope you found it useful to hear about a few vehicles that captured my interest.
Are you curious about a different car that I didn't mention? Let us know: [email protected].
What We're Reading...
Here's to our health, wealth, and a great retirement,
Brady Holt with Dr. David Eifrig
October 26, 2023