How would you like to work more hours than ever... and get paid less?
We usually think that booming industries are great places to make money. When outside factors lead to big growth, those fortunate enough to work in the industry make extra profits (most of the time, anyway).
One member of the Health & Wealth Bulletin team has a friend who is a realtor in suburban Maryland. About a year ago, she was able to close 12 deals in a single month. That's about the national average for a realtor in a year... so business was booming.
My analyst recently checked in with her again and said she must be loving this wild real estate market. Apparently, she wasn't...
"Oh, it's great," she said sarcastically. "I'm working all the time and not getting paid."
That's because in most suburban, mid-range real estate markets, buyers drastically outnumber sellers... And that's bad news if your customer can't find a house to buy and pay you a commission for it.
My team and I have heard firsthand accounts of open houses with 30 families lined up on the lawn to take a tour. We know people who have put in offers on more than a dozen houses and still haven't gotten one. We've seen homes that are listed on Friday and have more than 40 offers by Monday.
I don't mean to pile on the anecdotes, but some of the details are just crazy...
One of my team's family members was looking to buy a home in northeastern Pennsylvania. The selling agent asked if she'd be comfortable doing a virtual tour on Zoom. The family member said yes, as it makes sense in a pandemic.
The agent went on to clarify, "Would you feel comfortable making an offer based only on the virtual tour?"
The family member said, "No." The agent politely explained that there wasn't much point then... because the home would be gone before anyone saw it in person.
Sure enough, it was.
We've verified with colleagues across our firm, Stansberry Research, that this is happening across the country – not in every community, but in those with decent economies.
On average, there are now four offers received for each residential property sold in the U.S.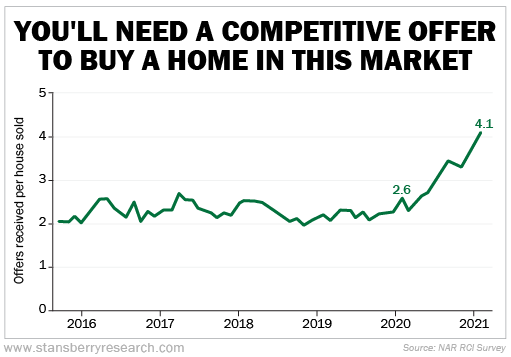 The median sales price of a home sold in the U.S. has gone up from $313,000 at the start of 2019 to $347,500 this year.
Let's get back to the unpaid agent I mentioned earlier...
Agents make commissions both from listing and selling a house as well as helping someone buy one. But with buyers vastly outnumbering sellers, that's also how agents' client lists look.
Right now, they can sell a house in the blink of an eye. But for each house they list and sell, they're also working with another 10 or 20 clients who want to buy.
That means rushed tours and all the paperwork for offers – and not getting the house... again and again.
If you want to know how tough it is, consider this from the Wall Street Journal: "There are more real-estate agents than homes for sale in the U.S."
Clearly, this is a red-hot real estate market. And many real estate investors are making gobs of money.
But when things are in such a craze, like they are today, it's only natural to feel a little skeptical. After all, 2007 wasn't too long ago...
Online search activity for "housing market crash" has been surging lately. It was at a peak during the coronavirus crash... and now it's making its way close to that peak.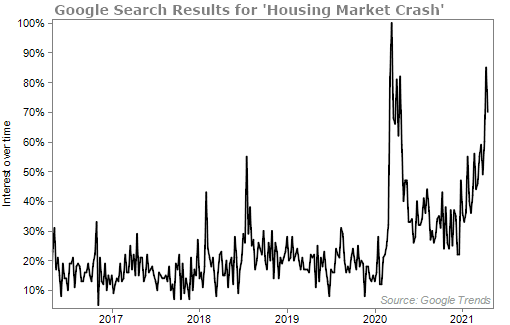 If you're one of these skeptics, I get it. I tend to be more cautious as well. When I see irrational behavior in any market, I usually look for a way out.
But I'm here to tell you that housing prices aren't going down significantly anytime soon.
Look, my team and I have been talking about this for years.
The recipe for higher housing prices is simple... demand is still greater than supply. And it's still true today. (I wrote about why I'm bullish on housing as recently as last month and also in June of last year.)
The chart below shows that the U.S. needs an additional 2.7 million homes to meet demand...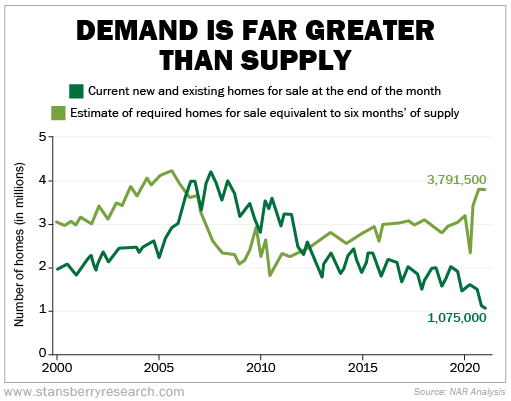 Put simply, there are just not enough homes on the market. More homes need to be built. And until then, prices are going to rise.
A simple one-click way to profit from this is by purchasing the iShares U.S. Home Construction Fund (ITB). ITB is a diversified basket of housing related stocks, with some of the biggest homebuilders in the U.S. (including one homebuilder that we recently made a trade on in my Retirement Trader service.)
Sometimes when a market is red-hot, like housing is today, you want to stay in it because the fundamentals are still there. There are still more gains to come, so you keep riding the wave.
But sometimes you want to jump ship when a market is surging... and that's because a crash is coming.
To find out whether you want to keep riding the broader stock market higher or jump ship, I urge you to tune into my colleague's Dr. Steve Sjuggerud's presentation on the "Melt Up."
Tomorrow night, Steve will talk about what he sees for the market over the next few months... Plus attendees will receive a couple free stock picks.
If you have any money invested in the stock market, it's a can't miss event.
Click here to reserve your spot.
What We're Reading...
Here's to our health, wealth, and a great retirement,
Dr. David Eifrig and the Health & Wealth Bulletin Research Team
April 28, 2021